A Reel Life film section
Issue: Spring, 2007
Waitress (2007) movie review
Small-town Dreams Aren't As Easy As Pie
Jenna (Keri Russell) is a lovely diner waitress with an unlovely life. At work she has a friendly family-like atmosphere, at home is the brutality of the aggressively needy. Her husband takes her money, her time, her energy, and after one drunken night, her future. For Jenna is pregnant, and although she doesn't intend to deny the child life, she cannot find it in herself to welcome it.
Jenna's great skill is her pie-making.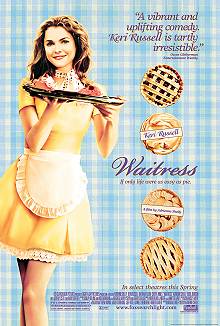 If only life were as easy as pie.
She creates extraordinary and bizarre-seeming pies, describing them in terms of the things going on in her life. When she takes a pie to her doctor (Nathan Fillion), she discovers that the old family practioner has been replaced by a charming young man who loves her pies, and in time, her.
The months of Jenna's pregnancy are the months where she comes to terms with her life and finally must decide her own path.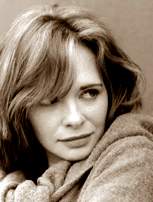 Waitress is a charming and slightly surreal tale of ordinary people finding ways to copy with their lives. The supporting cast are not perfectly plastic models but real-looking people. Their dramas are the stuff of every day, not overblown or deeply significant by action scenes or deadly earnestness.
The result is an emminently watchable little film. It is a criminal waste that the actor (Dawn)/ writer/ director Adrienne Shelly is no longer here to delight and inspire us. See: Adrienne Shelly Foundation
The film written by Shelly after Waitress, Serious Moonlight is due for release in early December, 2009.

by Ali Kayn
Due for Australian release 25 October 2007
For credits and official site details, see below
Search Festivale for more work by the film-makers below.

See also:

for movie, TV show, or person

Film commentary and upcoming movie release dates at reel-life.info

Just the facts:

Title: Waitress (2007)
Written by: Adrienne Shelly
Directed by: Adrienne Shelly
running time: 108 mins

---

The Players: Keri Russell, Nathan Fillion, Cheryl Hines, Andy Griffith

---

Official website:
IMDb entry


---

For session times of current films, use the cinema listings on the Movie links page. For scheduled release dates, see the coming attractions section.

For more information about this movie, check out the internet movie database.
For the latest additions to Festivale, check out the change history section.