Australian release dates for films
Movies by month
Credits
Official site
Oz release date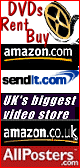 click to buy
Dressed to Serve
There are those who love, but for many what they love is the trapping, they seek the buzz, whether it is the drama of constant break-ups and reunions, or the frisson of the unknown in first dates, or the glitz and attention of weddings.

Ah, weddings, they can cost as much as a house.

According to Anslie Meares they are more stressful than any other event in a person's life, but for many they are still THE EVENT.

Movie Poster, 27 Dresses
Always a bridesmaid, never a bride.