A Reel Life film section
Issue: Autumn, 2008
Flawless movie review
Flawless Diamonds, Flawed Execution
The king of capers, Michael Caine, isn't letting the passage of time stop him. In Flawless he may have slowed down from his cheeky boys days, but as the janitor about to make his own retirement nest egg he is quick enough to mastermind an elegant robbery.
His partner in this crime, set in the 1960s is an elegant, brilliant woman (Demi Moore) who has hit the glass ceiling in her business and dreams of taking her shattered dreams out in kind.
Flawless begins with a journalist seeking the ground-breaking career women of the mid-twentieth century. The interview reveals a stunning reality -- that tough times make women harder than diamonds if they are to succeed.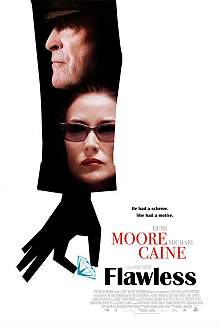 He had a scheme. She had a motive.
Despite the interesting concept, or perhaps because of it, the story is, if you'll excuse the expression, fractured. Moore and her scripwriter are somewhat apologetic about the potentionally feminist message. Like many women, Moore has come to feel that being feminist is shameful, and this may be part of her discomfort. Is she ashamed of her character?
Ultimately unsatisfying, this diamond-snatching caper has too many dull edges to be fun; and fun is at the heart of a good caper film.
by Ali Kayn
Due for Australian release 28 March 2008
For credits and official site details, see below
Search Festivale for more work by the film-makers below.

See also:

for movie, TV show, or person

Film commentary and upcoming movie release dates at reel-life.info

Just the facts:

Title: Flawless(2008)
Written by: Edward Anderson
Directed by: Michael Radford
running time: 108 mins

---

The Players: Demi Moore, Michael Caine,

---

Official website:
IMDb entry



---

For session times of current films, use the cinema listings on the Movie links page. For scheduled release dates, see the coming attractions section.

For more information about this movie, check out the internet movie database.
For the latest additions to Festivale, check out the change history section.