A Reel Life film section
Summer 2009
The Forbidden Kingdom (2008) movie review
The Quest of the Apprentice
A young man's fascination with martial arts movies takes him to the edge of death and a fantastic other world.
Inspired by Wu Cheng'en's novel Journey to the West, The Forbidden Kingdom is the story of Jason Tripitikas (Michael Angarano) who must return a staff to the Monkey King Sun Wukong (Jet Li) to break the rule of the Jade Warlord (Collin Chou).
Jason falls from a building in Boston to wake in an ancient China peopled by witches and immortals. He is the foretold seeker. In the 'real world' the staff was waiting in an old store for its rightful owner. In the fantastic world, Jason must take the golden staff to the Monkey King, restoring him from a statue.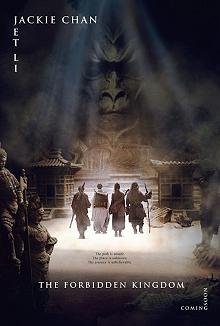 The path is unsafe. The place is unknown. The journey is unbelievable.
Jason is accompanied on his quest by the immortal travelling scholar Lu Yan (Jackie Chan) who maintains his immortality with copious amounts of wine. They are aided by Golden Sparrow (Liu Yifei), a young girl seeking revenge against the warlord for the killing of her family; and by the Silent Monk (Jet Li).
On their journey the group must battle the warlords soldiers and a white witch (white being the colour of death in the Chinese culture). As they travel Jason becomes the apprentice to two masters -- Lu Yan and the Silent Monk.
This film, the first in which Jackie Chan and Jet Li both appear, is laden with fights. While it is fun to watch wire-stunt fights, the tale is weakened by too much time spent in acrobatics. Both fighters are highly skilled and always bring a bright humour to their work, but despite each having a double role (Chan is also the Boston storekeeper Hop), the film doesn't give them an opportunity to involve the audience with their characters as people.
Pretty and action-packed, but falling short of its mythic potential.
by Ali Kayn
Due for Australian release 24 Jul 2008
For credits and official site details, see below
Search Festivale for more work by the film-makers below.

See also: Romeo Must Die; The Spy Next Door;

for movie, TV show, or person

Film commentary and upcoming movie release dates at reel-life.info

Just the facts:

Title: The Forbidden Kingdom (2008)
Written by: John Fusco
Directed by: Rob Minkoff
Running time: 113
Rating: PG

---

The Players: Jackie Chan, Jet Li, Michael Angarano, Yifei Liu

---

Official website: www.forbiddenkingdommovie.com/
IMDb entry

---

For session times of current films, use the cinema listings on the Movie links page. For scheduled release dates, see the coming attractions section.

For more information about this movie, check out the internet movie database.
For the latest additions to Festivale, check out the change history section.