A Reel Life film section
Issue: Summer 2008-9
Ghost Town (2008) movie review
New Yorkers -- They're Just the Same After Death

New York is lousy with ghosts...And they're a noisy, pushy, demanding bunch, same as when they were alive.
Bertram Pincus D.D.S. (Ricky Gervais) is having a bad day. First of all the misanthropic Pinkass has to listen to inane chatter on his way to his colonoscopy; and now he's seeing dead people. He doesn't like people when they're alive, when the dead start following him around he is desperate to find a way back to his quiet life.
Pincus is about to find love and redemption as he helps a ghost a(Greg Kinnear) derail a widow's (Tea Leoni) upcoming nuptials.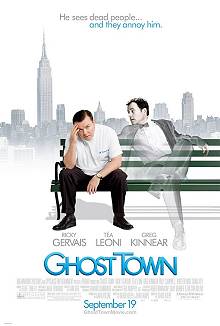 That little grinch heart of yours actually started beating and now you want to take it back into your cave and crush it with a rock.
Not your average love story.