A Reel Life film section
Summer 2008-9
Gran Torino (2008) movie review
Curmudgeon with a Heart of Gold
Clint Eastwood puts on his white hat and grabs his gun in his latest showdown movie. But unlike his western heroes or Dirty Harry, Eastwood plays the ultimate hero -- the man who looks at his own values squarely in the face. Yes, to some Gran Torino is the story of a man who puts his life on the line for others, but his real heroism is opening his mind and his life to strangers.
A crotchety, fault-finding old man lives in a neighbourhood that has changed, taking him from the 1950s suburban American dream into a war zone of conflicting values and aggressive gun-toting hoons whose lazy, lousy parents are the real villains.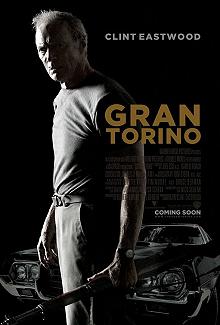 Walt is drawn out of his shell by the brave young girl next door. As he slowly takes her brother in hand, she courageously faces down local thugs, including her cousin.
Ultimately, she rescues him as he rescues the neighbourhood, although we could have done without yet another christ-allusion.
As he ages, Eastwood is portraying the common man's quiet heroics, and thus creating more powerful characters.
Interesting and inspirational.
by Ali Kayn
Due for Australian release 29th January, 2009
For credits and official site details, see below
Search Festivale for more work by the film-makers below.

See also: Changeling

for movie, TV show, or person

Film commentary and upcoming movie release dates at reel-life.info

Just the facts:

Title: Gran Torino (2008)
Written by: Writing credits (WGA) Nick Schenk (screenplay) Dave Johannson (story) & Nick Schenk (story)
Directed by: Clint Eastwood
Running time: 116 mins
Rating:

---

The Players: Clint Eastwood

---

Official site
IMDB: IMDb


---

For session times of current films, use the cinema listings on the Movie links page. For scheduled release dates, see the coming attractions section.

For more information about this movie, check out the internet movie database.
For the latest additions to Festivale, check out the change history section.