A Reel Life film section
Summer 2008-9
Igor(2008) movie review
Evil -- it's a Living
In the dark and stormy land of Malaria the king has decreed that evil shall be the national product. Each year at the mad scientist fair, the world at large is threatened with the winning weapon.
The king's new order exalts the evil scientists like pop stars. Igor (John Cusack) wants to be a scientist, but like all hunchbacks, he was forced to get his Yes-Masters at the Igor school and go to work as the flunky of a scientist.
His employer's most successful invention is a fairly tasty Lasagne, while in the dungeons Igor has been working on the secret to creating life.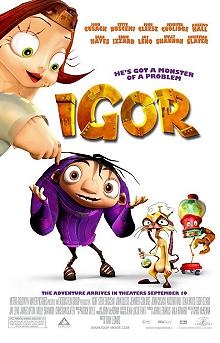 All men aren't created Evil.
What Igor does create is Eva -- a monstrously-sized would-be actress with a defective evil-bone.
I'm your master and I command you to stop this gesture of good will right now.
This darkened fairy tale is stylishly-presented, over-long for the storyline, but mercifully free of sugary songs, except when the monster is practicing for her Annie audition.
by Ali Kayn
Due for Australian release 8 Jan 2009
For credits and official site details, see below


for movie, TV show, or person

Film commentary and upcoming movie release dates at reel-life.info

Just the facts:

Title: Igor (2008)
Written by: Chris McKenna (scr John Hoffman & Anthony Leondis & Dimitri Toscas additional screenplay
Directed by: Anthony Leondis
running time: 87
rating: PG

---

The Players: John Cusack, Myleene Klass, John Cleese, Steve Buscemi, Jay Leno, Molly Shannon

---

Official website:
IMDb entry

---

For session times of current films, use the cinema listings on the Movie links page. For scheduled release dates, see the coming attractions section.

For more information about this movie, check out the internet movie database.
For the latest additions to Festivale, check out the change history section.