A Reel Life film section
Issue: Autumn 2008
Indiana Jones and the Kingdom of the Crystal Skull movie review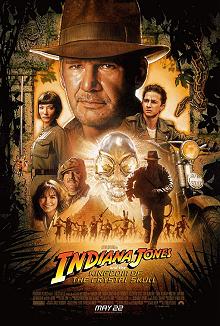 The Adventurer's Apprentice
Indy's back. Thrust from his safe and comfortable academic life he is dragged into a new adventure by a young man who needs Indy's help to rescue the boy's mother and the man who helped raise him -- people from Indy's own past.
Harrison Ford's days as an action hero are a memory, these days he needs a youngster to do the stunts. The swagger is slower and the Nazis have been replaced by Russians, and this time the artefact could well be alien in origin.
Timothy Train writes:
It's more creatively free, as it comes after the end of the Indy 'trilogy' (even if it wasn't intended as such). The atom bomb scene was incredulous but also incredible, and forms a neat formal bookend to the film just as the flying saucer scene at the end formed a bookend. The inclusion of aliens (rather than the usual fantasy trope) reminds just how good and shrewd Spielberg is at recognising and using modern mythology, and I seem to remember the chase sequence in the film has some very imaginative and creative concepts. A good way to develop the Indy character, I think.
It's one more plunge into the supernatural, a touch of romanace, a pinch of friendship and a smudge of story. But what the heck, the Indiana Jones series has never pretended to be more than a contemporary cinematic serial.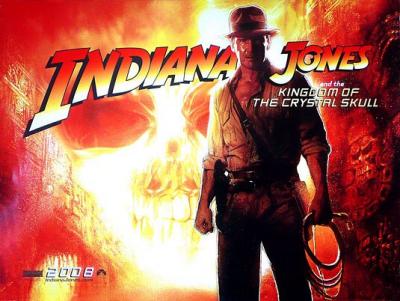 Share

by Ali Kayn
Due for Australian release 22 May 2008
For credits and official site details, see below
Search Festivale for more work by the film-makers below.

See also: Raiders of the Lost Ark; Indiana Jones and the Temple of Doom; Indiana Jones The Last Crusade.
David Koepp also wrote Spider-man (2002), Mission Impossible (1996), Jurassic Park (1993), Death Becomes Her (1992), The Mummy (2017)
George Lucas also wrote/created Star Wars (1977) etc
Steven Spielberg also wrote Jaws, Close Encounters of the Third Kind (1977), A.I. Artificial Intelligence (2001), The Fabelmans (2022)

---

for movie, TV show, or person

Film commentary and upcoming movie release dates at reel-life.info

Just the facts:

Title: Indiana Jones and the Kingdom of the Crystal Skull (2008)
Written by: David Koepp (screenplay) George Lucas (story) and Jeff Nathanson (story)
Directed by: Steven Spielberg
running time:

---

The Players: Harrison Ford, Karen Allen, Cate Blanchett, John Hurt, Ray Winstone, Jim Broadbent, Alan Dale

---

Official website:
IMDB:
IMDb entry

---

For session times of current films, use the cinema listings on the Movie links page. For scheduled release dates, see the coming attractions section.

For more information about this movie, check out the internet movie database.
For the latest additions to Festivale, check out the change history section.