A Reel Life film section
Spring 2008
The Wackness (2008) movie review
Dead Beat Dreariness
Note the tagline:
Sometimes it's right to do the wrong thing
The end justifies the means is a maxim for those who put thought into their choices -- people who consider that justice and morality are in conflict with law and custom. But what cost 'the wrong means'?
The Wackness has no heroes, merely protagonists. The chief protagonist is a teenage drug dealer with the crush on a teenage girl.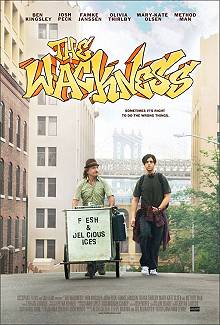 Like graffiti on concrete berms this movie is occasionally colourful, loud, toys with artistic pretensions, and worships at the altars of hormone-dripping self-interest, conscience-less destructiveness and arrogant claims of entitlement.
by Ali Kayn
Due for Australian release 13 November 2008
For credits and official site details, see below


for movie, TV show, or person

Film commentary and upcoming movie release dates at reel-life.info

Just the facts:

Title: The Wackness (2008)
Written by: Jonathan Levine
Directed by: Jonathan Levine
running time: 95 mins

---

The Players: Ben Kingsley, Mary-Kate Olson

---

Official website:
IMDb entry


---

For session times of current films, use the cinema listings on the Movie links page. For scheduled release dates, see the coming attractions section.

For more information about this movie, check out the internet movie database.
For the latest additions to Festivale, check out the change history section.