A Reel Life film section
Issue: Summer, 2010
Fortune (2009) movie review
Timing is Everything

A therapist sits in his office, divorce papers on his desk, a gun to his head. There's a knock on the door.
So begins Fortune, a movie with three characters and a single house.
Fortune, being so contained, has all the markings of a student film, or a small play. So few actors and so few sets makes for an inexpensive movie. Especially when there are practically no effects or soundtrack.
Likewise conflict is beloved of the student film-maker. Although Scott Cohen as the therapist gets to play a small range of emotions, Jason Shaw, who plays the interrupting character gets to pretty much yell through the 80 minutes.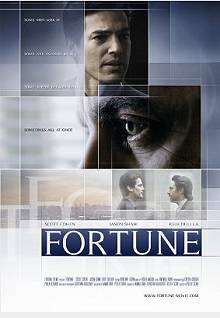 Fortune is fairly well put together, altough the musical underpinings are badly handled. It is a character piece, and as such is a drama, not escapism.
If that's to your taste, go watch it.
Share this
Like us on facebook
For the latest news and reviews.

by Ali Kayn
Due for Australian release Jan 13 2010
For credits and official site details, see below
Search Festivale for more work by the film-makers below.

See also:

for movie, TV show, or person

Film commentary and upcoming movie release dates at reel-life.info

Just the facts:

Title: Fortune (2009)
Written by: Ahmad Diba , Peter Scarf
Directed by: Peter Scarf
Running time: 80 mins
Rating:

---

The Players: Scott Cohen, Keir Dullea, Jason Shaw

---

Official website: http://www.fortune-movie.com
IMDb entry

---

For session times of current films, use the cinema listings on the Movie links page. For scheduled release dates, see the coming attractions section.

For more information about this movie, check out the internet movie database.
For the latest additions to Festivale, check out the change history section.