A Reel Life film section
Issue: Summer 2010
Post Grad (2009) movie review
Ryden Malby Has Left the College

Ryden Malby (Gilmore Girls'Alexis Bledel) has her life all planned out -- study hard, go to college, study hard, go for a job interview with the top publishing house in L.A. and have a successful life.
Unfortunately, the publishing house is not on board with this plan and Ryden is shocked to discover that she must navigate the shoals of job hunting with the rest of us, and not necessarily do as well as quickly as her classmates.
Post Grad is one of those movies that one wonders if it is meant to be a comedy. Well-known comedians Michael Keaton and Carol Burnett certainly play their parts as if for laughs, although their behaviours and results are silly and somewhat sad rather than heart-warming and humorous.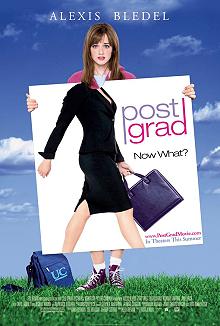 Whatever it is, Post Grad scurries along as Ryden feels increasingly sorry for herself, out in the big bad world, going for job interviews on her little pink bike. Unfortunately for the film-makers, Ryden was such a targetted know-it-all in the opening narration that the audience is glad to see her taken down a peg or two.
Post Grad is about getting a dose or real life. Whether you are going to find that entertaining or not probably depends on how keen you, the audience member feel about real life yourself. Certainly this is not a film that's going to warrant a second look. Seriously 'C' movie.
by Ali Kayn
Due for Australian release 1 Jan 2010
For credits and official site details, see below
Search Festivale for more work by the film-makers below.

See also:

for movie, TV show, or person

Film commentary and upcoming movie release dates at reel-life.info

Just the facts:

Title: Post Grad (2009)
Written by:Kelly Fremon
Directed by: Vicki Jenson
Running time: 88 mins
Rating:

---

The Players: Alexis Bledel, Michael Keaton, Carol Burnett, Jane Lynch

---

Official website: http://www.foxsearchlight.com/postgrad/
IMDb entry

---

For session times of current films, use the cinema listings on the Movie links page. For scheduled release dates, see the coming attractions section.

For more information about this movie, check out the internet movie database.
For the latest additions to Festivale, check out the change history section.