A Reel Life film section
Issue: Winter 2009
The Taking of Pelham 1 2 3 (2009) movie review
Subway Saga Revisited

A New York subway train is captured and its passengers are held hostage. In the control room veteran company man Garber (Denzel Washington) is working a desk having been temporarily demoted pending investigation.
Hostage-taker Ryder (John Travolta) rapidly demonstrates the willingness of the criminals to pull the trigger on a hostage should their demands or schedule be thwarted.
This second version of the novel is a variation of the classic hostage/crime movie. The 'good guys' must find out what the hostage-takers are what their true agenda is, and how to extract the hostages safely, the hostage-takers must avoid the above while controlling the hostages and their own stress levels.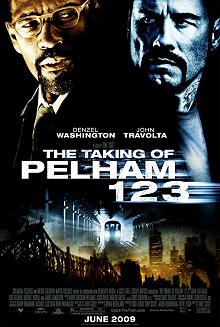 Much of the character drama in The Taking of Pelham 123 is the relationship between transit worker Garber and criminal Ryder. Ryder challenges with mortal threats that we know he is capable of carrying out. Garber is left to largely react -- intelligently if possible. He is supported by a professional negotiated and interfered with by his own supervisor.
This is a difficult film to review without spoilers, however one can say that whether by design for their roles, or by the wear and tear of the years, both Travolta and Washington, hotties in their younger days, are looking shopworn and barely recognisable. It was a bit too much realism for me. It's not that they are ageing -- it's that they are dragging those of us who grew up with them along into graceless old age with them.
As a movie, The Taking of Pelham 123 is a well-paced crime flick with good character development. As a mirror on the audience's own mortality it's a bit scary, frankly.
by Ali Kayn
Due for Australian release 27 August 2009
For credits and official site details, see below
Search Festivale for more work by the film-makers below.

See also:

for movie, TV show, or person

Film commentary and upcoming movie release dates at reel-life.info

Just the facts:

Title: The Taking of Pelham 1 2 3 (2009)
Written by: Brian Helgeland (screenplay); John Godey (novel)
Directed by: Tony Scott
Running time: 106 mins
Rating: MA

---

The Players: Denzel Washington, John Travolta, Luis Guzm?n, Victor Gojcaj, John Turturro

---

Official website:
IMDb entry

---

For session times of current films, use the cinema listings on the Movie links page. For scheduled release dates, see the coming attractions section.

For more information about this movie, check out the internet movie database.
For the latest additions to Festivale, check out the change history section.