A Reel Life film section
Issue: Autumn, 2010
Alice in Wonderland (2010) movie review
Alice Continued ...

Alice in Wonderland (2010)
19-year-old Alice returns to the magical world from her childhood adventure, where she reunites with her old friends and learns of her true destiny: to end the Red Queen's reign of terror. source: IMDb Directed by Tim Burton.
For credits and official site details, click here.
Search Festivale for more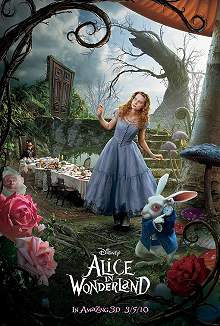 by Ali Kayn
Due for Australian release 2010
For credits and official site details, see below
Search Festivale for more work by the film-makers below.

See also:

for movie, TV show, or person

Film commentary and upcoming movie release dates at reel-life.info

Just the facts:

Title: Alice in Wonderland (2010)
Written by: Linda Woolverton (screenplay); Lewis Carroll (books
Directed by: Tim Burton
Running time:
Rating:

---

The Players: Mia Wasikowska, Helena Bonham Carter, Johnny Depp, Crispin Glover, Anne Hathaway, Stephen Fry, Christopher Lee, Michael Sheen, Alan Rickman

---

Official website: http://disney.go.com/disneypictures/aliceinwonderland
IMDb entry

---

For session times of current films, use the cinema listings on the Movie links page. For scheduled release dates, see the coming attractions section.

For more information about this movie, check out the internet movie database.
For the latest additions to Festivale, check out the change history section.