A Reel Life film section
Issue: Summer, 2010
Percy Jackson & the Olympians: The Lightning Thief (2010) movie review
Supernatural Dad

Director Chris Columbus, who helmed the first two Harry Potter movies brings us Percy Jackson, descendant of the Olympian gods. Adventures ensue. Based on the book by Rick Riordan.
It is difficult not to be cynical when offered a story about a young boy, supposedly deserted by his father, who suddenly discovers that he has special powers and is sent to a supernatural camp for special kids.
Let's face it, J.K.R. didn't invent the magical magic school genre, or the crime-fighting school-kids genre, but she has made it difficult for others to make their own offerings in these genres to look original.
In this film, the title character, Percy Jackson is the son of Poseidon and a mortal woman who is alienated from his father from Olympian edict. The ultimate broken home.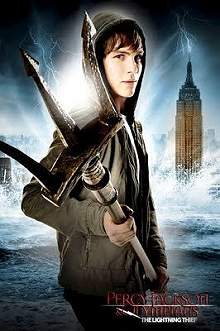 Percy is called upon to answer his destiny, together with a satyr and the daughter of Athena, when someone steals Zeus' lightning bolt and a great war amongst the gods threatens.
Percy must save the Earth, which would be the gods battleground, and discover the cause of his dyslexia and ADD, by going on a quest after about 10 minutes of special training.
Amazing special effects, occasional humour and a very average script result in a good-looking but average film. Strictly for the undemanding youngsters, which will be interesting since the censorship board has given it an M.
by Ali Kayn
Due for Australian release 2010
For credits and official site details, see below
Search Festivale for more work by the film-makers below.

See also: Harry Potter and the Philosophers (Sorcerer's) Stone
Harry Potter and the Chamber of Secrets


for movie, TV show, or person

Film commentary and upcoming movie release dates at reel-life.info

Just the facts:

Title: Percy Jackson & the Olympians: The Lightning Thief (2010)
Written by: Craig Titley (screenplay), Rick Riordan (novel)
Directed by: Chris Columbus
Running time: 119 mins
Rating: M

---

The Players: Sean Bean, Pierce Brosnan, Rosario Dawson, Melina Kanakaredes, Joe Pantoliano, Uma Thurman,

---

Official website: http://www.percyjacksonthemovie.com
IMDb entry

---

For session times of current films, use the cinema listings on the Movie links page. For scheduled release dates, see the coming attractions section.

For more information about this movie, check out the internet movie database.
For the latest additions to Festivale, check out the change history section.