A Reel Life film section
Issue: Autumn, 2010
She's Out of My League (2010) movie review
Tipping the Scale

Kirk is a really nice guy with a spidery-thin build. Mollie is a blonde with a gorgeous smile and a body to match. They meet, he rescues her from the over-zealous inspection of his airport security boss, and despite all his friends odds she asks him out. Repeatedly. Now Kirk and his three buddies have to re-evaluate all the comforting male myths about dating and the date-able.
Molly (Alice Eve) is the kind of genuinely nice person it is easier to be when the world around you is happy just to see your pretty face. She has an equally-attractive but acerbic business partner Patty (Krysten Ritter). Patty believes Molly is sick of being hurt by hunky guys and is looking for a nice, safe man.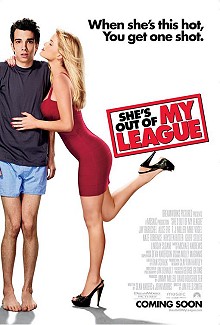 Kirk (Jay Baruchel) has a set of buddies designed to give him different perspectives: Stainer the best-friend and cover-band rock wanna-be, Jack the hunk with the minor job, and Devon, the more-average-than-average guy who is the only one with a wife and ongoing relationship.
On a scale of one to ten, their collective wisdom about women is probably about a five, which is about where anyone who plays the rating game belongs.
In a place as inundated with shallow values as the U.S. is, this is a "deep" story. Can true love cross the class barriers that divide the pretty from the average?
The closest person to a villain in this film is Marnie (Lindsay Sloane), Kirk's ex who has been adopted by his family. She, together with his family, provide most of the dramatic tension as well as showing our protagonist's niceness in high relief.
She's taking her new boyfriend to Branson with your parents.
She's Out of My League has a couple of romantic leads who are genuinely nice people whose personal issues, relatives and friends are all that stand in the way of their being together. So, naturally, watching the film is a little bit like waiting for the next bit of formula to come along. Meet cute. Check. First date. Check. People surprised by him. Check. People surprised by her. Check. Meet the family. The big obstacle just as it all looks set. And so on.
This film is human in scale, watchable as a piece of light entertainment, and just a little bit Disney in its moral fibre. Basically an unchallenging way to pass the time.
I think if someone really loves you, then you are a 10.
Probably nobody is going to really love this film.
by Ali Kayn
Due for Australian release 11 March 2010
For credits and official site details, see below
Search Festivale for more work by the film-makers below.

See also:

for movie, TV show, or person

Film commentary and upcoming movie release dates at reel-life.info

Just the facts:

Title: She's Out of My League (2010)
Written by: Sean Anders (written by) & John Morris (written by)
Directed by: Jim Field Smith
Running time: 104 mins
Rating: MA

---

The Players: Jay Baruchel, Alice Eve, T.J. Miller, Lindsay Sloane, Krysten Ritter

---

Official website: www.getyourrating.com
IMDb entry

---

For session times of current films, use the cinema listings on the Movie links page. For scheduled release dates, see the coming attractions section.

For more information about this movie, check out the internet movie database.
For the latest additions to Festivale, check out the change history section.