A Reel Life film section
Issue: 2011
Inside Job (2010) movie review
Big Bucks, Big Boom
In the U.S. Financial sector they're making out like bandits -- but nobody seems to be going to jail.
Inside Job is the story of the 2008 crash that left so many people jobless and homeless. It looks at the people and profiteering practices who were active in the leadup to the fall, and how many of them continue to be in positions of power. It considers the consequences of deregulation and points out how little of Obama's promised reforms resulted in regulations to help prevent future abuses.
In a country where the gap between the rich and the poor is becoming ever greater, the financial industry is an extraordinary example of failing up. Huge salaries are paid against theoretical profits and those who bring massive losses walk away with massive payouts -- in the millions.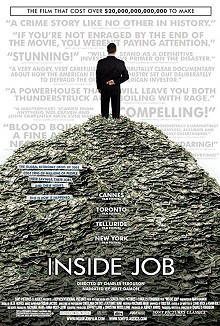 What Inside Job shows, by interview and by chart, and by who refused to be interviewed, is that there is a lot of money to be made by lobbyists, by academics and by members of the incestuous financial sector, and that they cascading effect of the failure of financial institutions is akin to a weapon of mass destruction. The more countries who do business with the U.S.A., the more people are likely to be damaged by loss-lead recessions.
Money talks, honour walks
Ferguson uses the term "toxic banking" and demonstrates the interconnectedness between politics, including the white house, and the people at the top of institutions who enter into the financial industry's "pissing contest".
At the end of the day, the poorest pay the most.
With five financial industry lobbyists for every elected official in Washington, the power of these men and women is disproportionate to their number. Money, it seems, is not a demoncratising force. Inside Job argues for regulation in the face of some very powerful people who are not afraid of mis-stating the truth -- people who are willing to sell their names and their opinions to the highest bidder. As a film it takes a bit longer to tell its story than it needs, but it is a story worth telling.