A Reel Life film section
Issue: Autumn 2011
Thor (2011) movie review
God of Thunder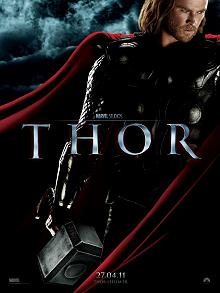 It's another comic book hero coming to the big screen. Thor, Norse god of thunder, arrogantly goes into the territory of past enemies and brings conflict back to his people. His father, Odin, king of the gods (Anthony Hopkins), renounces him as crown prince and exiles him to Earth, powerless, but sends after him the mighty hammer to be used by one worthy of it.
On Earth researcher Jane Foster (Natalie Portman) is looking into multi-dimensional phenomena and Thor virtually drops into her lap. Meanwhile the agents of S.H.I.E.L.D. put up a tent city around the hammer where it landed on Earth and where, like Excalibur, it resists being drawn from the ground.
Now we've got Thor (Chris Hemsworth), his envious brother Loki, the god of mischief, from memory (Tom Hiddleston), impending war in the other realms, Thor's friends coming to Earth, Foster racing around trying to get her research back from S.H.I.E.L.D. who seized it, and guess what, there are a lot of writers credited with this script and story.
This movie should come with crib notes. The film-makers are trying to fit a lot of superhero mythology into a situation that presumably is setting up The Avengers movie in contemporary times. It's ordinary and lacks focus. I want a kick-ass hero who makes me care about whether she or he succeeds or fails. This Thor version doesn't do it.
Share this
Like us on facebook
For the latest news and reviews.

by Ali Kayn
Australian release 21 April 2011
For credits and official site details, see below
Search Festivale for more work by the film-makers below.

See also:

for movie, TV show, or person

Film commentary and upcoming movie release dates at reel-life.info

Just the facts:

Title: Thor (2011)
Written by: Ashley Edward Miller & Zack Stentz & Don Payne(screenplay); J. Michael Straczynski and Mark Protosevich (story); Stan Lee & Larry Lieber & Jack Kirby (comic book)
Directed by: Kenneth Branagh
Running time: 115 min
Rating: M

---

The Players: Chris Hemsworth, Natalie Portman, Tom Hiddleston, Anthony Hopkins, Stellan Skarsgård

---

Official website:
IMDb entry

---

For session times of current films, use the cinema listings on the Movie links page. For scheduled release dates, see the coming attractions section.

For more information about this movie, check out the internet movie database.
For the latest additions to Festivale, check out the change history section.