A Reel Life film section
Issue: Summer 2013-4
Enough Said (2013) movie review
Divorce, She Said

Eva (Julia Louis-Dreyfus) is a masseuse who has just made a new friend, and met a new man (James Gandolfini).
Enough Said is a story about new beginnings and old marriages. Albert and Eva are parents of daughters about to go to college. They are starting a relationship, but she has what she believes is an edge -- all the information about him from her new client, his ex-wife.
As their relationship develops, she begins to see him through the lens of his ex-wife, and discovers a shortcut to his most annoying traits.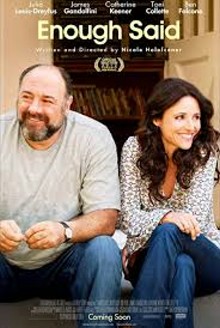 There is no action, no adventure, no comedy, no exciting romance, just relationships that are limping along. Ordinary life, really.