A Reel Life film section
Issue: Spring 2013
One Chance (2013) movie review
Another Chance in a Lifetime Story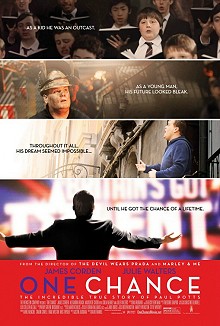 It would be no spoiler to tell you that One Chance is the dramatised story of the welsh tenor Paul Potts, who was the 2007 winner of Britain's Got Talent. What would be a spoiler would be to tell of Potts' torturous, convoluted and often comic life path that led to his arrival at ITV's studios in 2007. This movie is simply beautiful; I cried, laughed, 'oohed' and 'aaahed' all the way through. It is quite simply every bloke's Bridget Jones' Diary.
Where I might be completely unsuited to reviewing this movie is that I - like Paul Potts - am a singer. This movie is about the love of music and song, and achieving the singer's ultimate quest: to sing passionately and confidently for large audiences. Potts (played by James Corden) is from a tough village in South Wales and has a birthright destiny to work in the steel mills and live in a union-financed cottage. Over the course of his first 37 years, life and music took him on a wild and exciting, but often depressing and challenging, journey.
The deep and enthralling themes in this movie are the importance of the father-son relationship and the fallacy of the 'one chance' life myth. The father, a tough welsh rugby 'wannabe' with a distaste for opera, is beautifully played by Colm Meaney. Largely through the two men's relationship and respective life paths, the movie reveals the fallacy of having 'one chance'; that life is something that you continually work with and cave opportunities from, rather than bemoan the absence of opportunities.
Yet outside of these very serious themes, the movie - again like Bridget Jones' Diary - is terrifically funny. Much of this comedy derives from the performance of Potts drunkard fantasy-crazed boss (played by British comedian, Mackenzie Crook) and his acid-tongued girlfriend, Hydrangea (Jemima Rooper). Similar comic performances are provided by Julie Walters, who plays Potts' long-suffering mother. But for me, the standout performance was Potts' girlfriend, Jules (Alexandra Roach). Again, from a bloke's perspective, 'Jules' is simply charming, very funny and adorable (more ooohs and aaahs). Honestly!
If I had any criticism of this film, it would be the shallowness of the female characters - they simply support, nurture and 'repair' their menfolk. The characters of depth are almost exclusively Potts and his father. Outside of this, it is a beautifully uplifting story that is just a feast for the eyes (much of it shot on location in Wales and Venice) and, of course, the ears. I'll see it again!
Share this
Like us on facebook
For the latest news and reviews.

by Allan Alderson
Australian release Thursday 28 November 2013
For credits and official site details, see below
Search Festivale for more work by the film-makers below.

See also: Colm Meaney (Star Trek), Julie Waters (Harry Potter films, Educating Rita)

for movie, TV show, or person

Film commentary and upcoming movie release dates at reel-life.info

Just the facts:

Title: One Chance (2013)
Written by: Justin Zackham
Directed by: David Frankel
Running time: 103 mins
Rating:

---

The Players: James Corden, Jemima Rooper, Colm Meaney, Julie Walters, Mackenzie Crook, Alexandra Roach

---

Official website:
IMDb entry

---

For session times of current films, use the cinema listings on the Movie links page. For scheduled release dates, see the coming attractions section.

For more information about this movie, check out the internet movie database.
For the latest additions to Festivale, check out the change history section.