A Reel Life film section
Issue: Sept 2013
R.I.P.D. (2013) movie review
3D Supernatural Thriller
Nick (Ryan Reynolds) is a cop with a touch of dishonesty. When he is killed he discovers that there is a place for him that's neither heaven or hell -- the R.I.P.D. Rest In Peace Department. R.I.P.D. bring down the dead who refuse to move on. It's based on a comic/graphic novel so the audience can expect gun fights, chase scenes and the occasional witty remark.
In the afterlife, Nick is partnered with an old-timer who affects an almost wild-west look (Jeff Bridges). Together the two of them are a variation of the usual buddy cop film, except this has more special effects.
Men in Black did it better, however R.I.P.D. is well-paced and holds the audience's interest throughout.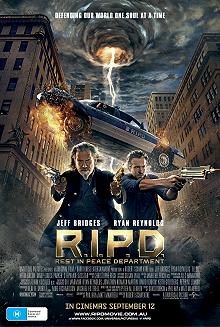 Share this
Like us on facebook
For the latest news and reviews.

by Ali Kayn
Due for Australian release Sep 12, 2013
For credits and official site details, see below
Search Festivale for more work by the film-makers below.

See also: Jeff Bridges (Starman, Iron Man, K-PAX, The Muse, The Big Lebowski, The Fabulous Baker Boys, Kiss Me Goodbye); Ryan Reynolds (The Proposal, Green Lantern, Definitely, Maybe)

for movie, TV show, or person

Film commentary and upcoming movie release dates at reel-life.info

Just the facts:

Title: R.I.P.D. (2013)
Written by: Phil Hay & Matt Manfredi(screenplay); David Dobkin & Phil Hay & Matt Manfredi(story); Peter M. Lenkov (Dark Horse comic)
Directed by: Robert Schwentke
Running time:
Rating:

---

The Players: Ryan Reynolds, Jeff Bridges, Kevin Bacon, Mary-Louise Parker

---

Official website: www.ripdmovie.com.au
IMDb entry

---

For session times of current films, use the cinema listings on the Movie links page. For scheduled release dates, see the coming attractions section.

For more information about this movie, check out the internet movie database.
For the latest additions to Festivale, check out the change history section.