A Reel Life film section
Issue: Winter 2014
The Expendables 3 (2014) movie review
New Team, Same Explosions.
The Expendables are back again, but are they getting too long in the tooth? (Clicé intended).
Yep, even their leader Barney Ross (Sylvester Stallone) has his doubts, so he retires his old team and brings in a whole new brood of fighters.
Expendables 3 is a who's who in action movie heroes who-were. Mel Gibson plays the target, a seriously bad guy. Arnold Schwarzenegger plays Trench, come out of retirement for the mission.
The saving grace of The Expendables 3 is that it doesn't take itself seriously. Oh, yes. There's plenty of punch-ups and shoot-em-ups and explosions. I was particularly happy to see Ronda Rousey is a red mini-dress and high heels kicking the shit out of a group of clubbing tough-guys.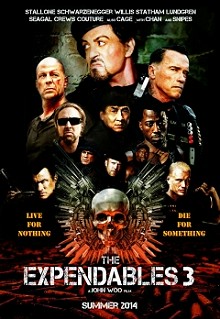 The humour was wry, just enough dryness to show a little thought. I particularly liked Schwarzenegger and Stallone having trouble with Jason Statham's lovely British accent.
Oh, come on. You really don't think this is going to have metaphors and deep character insight, however it moves quickly enough, and is enough of a star-recognition game (did I mention Harrison Ford?), that we play along.
They're still burning.
by Ali Kayn
Australian release 14 August 2014
For credits and official site details, see below
Search Festivale for more work by the film-makers below.
See also: search Festivale for movies with Stallone, Schwarzenegger, Ford, Banderas, Jet Li and more ...

for movie, TV show, or person

Film commentary and upcoming movie release dates at reel-life.info

Just the facts:

Title: The Expendables 3 (2014)
Written by: Sylvester Stallone & Creighton Rothenberger & Katrin Benedikt (screenplay)
Sylvester Stallone ... (story)
David Callaham ... (characters)

Directed by: Patrick Hughes
Running time: mins
Rating:

---

The Players: Arnold Schwarzenegger, Sylvester Stallone, Harrison Ford,

---

Official website:
IMDb entry

---

For session times of current films, use the cinema listings on the Movie links page. For scheduled release dates, see the coming attractions section.

For more information about this movie, check out the internet movie database.
For the latest additions to Festivale, check out the change history section.
For posts about Melbourne events, places, news, reviews, giveaways, see our Facebook Page: