A Reel Life film section
Issue: Winter 2014
Predestination. (2014) movie review
What Goes Around ...
In the universe of this film, Temporal Agents travel through time averting serious crimes. They are asked to be willing to kill to save lives, and this leads our unnamed temporal agent, who pretends to be a bartender, to ask, would you kill the person who ruined your life?
The Bartender (Ethan Hawke) is coming to the end of his career, due to the limitations of the human body, but he is determined to capture the Fizzle Bomber at any cost.
Based on the Robert A. Heinlein short story All You Zombies, the story was adapted (and directed) by brothers Peter and Michael Spierig.
This reviewer is a sucker for a good time travel story. Time travel stories can be used to examine the way societies change (see Asimov or H. G. Wells), or they can examine the way that people change.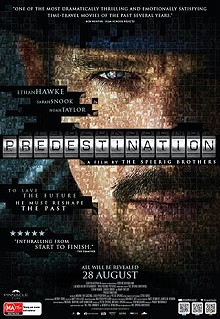 This is a story about people. There is science fiction, there is crime, but ultimately it is about the consequences of time travel on a personal level.
The nearest equivalent in style is The Game. Watching the film unfold, the audience member is at the back of their mind wondering what will be revealed.
This film is slated for a limited release, which is a pity, because this is excellent science fiction, not the mad monster/superhero films that get the big releases.
Highly recommended.
For posts about Melbourne events, places, news, reviews, giveaways, see our Facebook Page: