A Reel Life film section
Issue: Winter, 2014
Snowpiercer (2013) movie review
Post-Apocalyptic Flight
Snowpiercer is a wonder - exhilarating and confronting, a fast paced, action-packed thinking person's film and a vast metaphor for the times we now live in - 'the sweet and the swill', as George Turner memorably coined in his great novel, The Sea And Summer.
If some viewers find themselves a mite bewildered and don't get the message, it's rammed in their faces near the end to make sure they do - the right actor in the right scene at the right time - and the final image is one of those great moments in cinema you are unlikely to forget.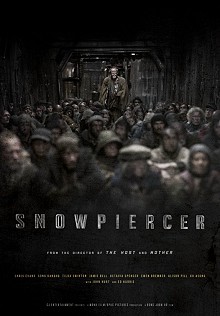 No Hollywood studio would have financed this film and it's success must be attributed to the collaboration between the French authors of the original graphic novel and the visionary Korean director Bon Joon Ho (Oldboy) The cast is splendid - Chris Evans minus his Captain America fancy dress, Tilda Swinton, John Hurt, Jamie Bell and the rest of the huge multi-lingual multi-racial cast ensure that you CARE about the characters they portray, and while there are scenes of violent confrontation - especially the first, in the early part of the film - they are shot and edited in non-gratuitous, fast montage sounds and shadows.
This film is a work of art and superb entertainment, light years away from the super hero schlock that clogs the multiplexes, but it's having a limited release - only at the Nova in Melbourne - so see it NOW.
by Lee Harding
Australian release Jul 24, 2014
For credits and official site details, see below
Search Festivale for more work by the film-makers below.
See also:

for movie, TV show, or person

Film commentary and upcoming movie release dates at reel-life.info

Just the facts:

Title: Snowpiercer (2013)
Written by: Joon-ho Bong & Kelly Masterson (screenplay)
Based on Le Transperceneige by Jacques Lob & Benjamin Legrand & Jean-Marc Rochette
Directed by: Joon-ho Bong
Running time: mins
Rating:

---

The Players: Chris Evans, Tilda Swinton, Ed Harris, John Hurt, Jamie Bell, Kang-ho Song

---

Official website: snowpiercer-film.com
IMDb entry

---

For session times of current films, use the cinema listings on the Movie links page. For scheduled release dates, see the coming attractions section.

For more information about this movie, check out the internet movie database.
For the latest additions to Festivale, check out the change history section.
For posts about Melbourne events, places, news, reviews, giveaways, see our Facebook Page: