A Reel Life film section
Issue: Spring 2014
A Walk Among the Tombstones (2014) movie review
Dark Crimes
Can a film be too dark to be noir? Does it need to have a femme fatale?
Lawrence Block's Matt Scudder is a flawed human being who has jettisoned his badge, but not his need for justice. He is a recovering alcoholic who lives in the grimy streets of a tough New York, travelling with his own personal demons.
A Walk Among the Tombstones is not the first book in the series, but it gives the Scudder backstory in interesting flashbacks. Scudder is asked to help by one of his fellow AA members after the member's sister-in-law is kidnapped and killed.
After first refusing, Scudder is pulled into the investigation, meeting a strange series of characters, sane and not including a talented street kid with a love for the detective genre.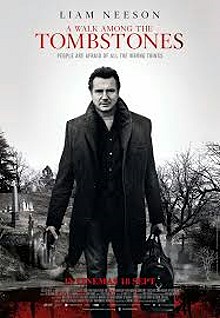 The film moves along at its own pace, without falling for the 'action' film tricks of fast cars and loud music. It is, however, gritty and uncompromising.
Darkly shot, it did give me one problem. I don't know how the film ends because the final bloody battle takes place in the dark and the men tended to look and dress so similarly that I'm at a loss. I'd appreciate anyone who knows who was fighting whom at the end to message me.
So, dark, moody and intense. Does that sound like something you would enjoy?
For posts about Melbourne events, places, news, reviews, giveaways, see our Facebook Page: