A Reel Life film section
Issue: 2014
X-Men: Days of Future Past (2014) movie review
Adventure and Fun for the Fans
Seventh film in the X-Men franchise (if you include the two solo outings for Wolverine) comes Days of Future Past (DoFP), a film which follows on from First Class, but also sees the return of most of the original cast from the initial X-Men films.
The plot introduces a device that's long been utilised in the comics series' of both Marvel and DC, namely the concept of alternative time-lines (which also serves to iron out slight discrepancies with previous X-Men films, namely the dichotomy between the initial incarnation and the First Class story).
In a grim, near future (which has always been the case for X-Men films, as set out from the very first movie), mutants and the humans who help them are being hunted and killed or placed in prison camps by the government operated Sentinels.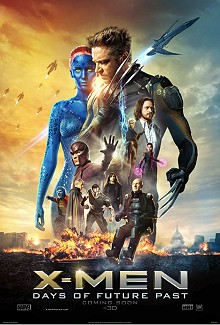 These machines can mimic and adapt to any power a mutant possesses, making it near impossible to defeat them. The opening scene shows returning characters Iceman, Colossus and Shadowcat/Kitty Pryde teamed with newcomers Bishop, Blink, Warpath and Sunspot, who are all massacred by these relentless robots...but never fear, as Shadowcat has the ability to send Bishops' mind back a few days into his earlier self and thus, stops the team from ever being at the fatal location.
Confused? It's actually very easy to follow on screen due to neat exposition-light dialogue and good, clear action. The group are soon joined by Professor X and Magneto (a returning Patrick Stewart and Ian McKellan), Storm (Halle Berry) and Wolverine (Hugh Jackman, of course). A brief conversation explains that company in the 70's, Trask Industries, created the Sentinels as they currently exist based on the DNA of Mystique (the ever wonderful Jennifer Lawrence), who had assassinated the head of Trask Industries, Bolivar Trask (played by the excellent Peter Dinklage) and was subsequently captured by the government. They decide to send Wolverine's consciousness back into his past self in order to try and change events.
What could have been an absolute mess of a film (both because of the time travel aspect and the two sets of characters/actors) is handled with deftness and a sure touch, in this reviewer's opinion. Yes, there are plot holes (what film doesn't have them?), but they are far outweighed by the sheer entertainment on screen. The humour is spot on, tongue in cheek but never out of place. The action is frenetic but logical, it never feels shoehorned in.
The drama is moving and it's a testament to the calibre of the actors that they make you forget you're watching a 'mere comic book movie'. I've always preferred the X-Men universe over other comic book adaptations, conversely this has made me highly critical of any missteps (The Last Stand and Wolverine: Origins in particular, a woeful film). This, though, is the best of both worlds, although it remains mostly in the world of First Class. My one criticism is that I'd like to have seen more of the dark future, seen more of how the utter persecution and destruction of mutants and their allies affects that world and its inhabitants. But, budget, time and script constraints aside, it works and works well, for me at least.
There are plenty of in-jokes and references to both previous films and the X-Men universe, none of which I'll spoil here. One of those, though, involves new character, Quicksilver (played by Evan Peters, one of my favourite young actors) who also has one of the best action sequences I've seen, not just in this but in any film for a long time. It really has to be seen and seen on the big screen. In 3D as well, if you can: it's subtle and enhances the action. Wonderful stuff.
There's a real sense of respect for what's gone before and also a sense of fun...a knowing, playful riff on what the fans know and what they think they know. It really is the best of First Class and the first two X-Men films. I can forgive the plot holes (for example, Blink can teleport anyone and anything from one place to the next - why doesn't she just teleport the Sentinels into space or onto another planet?) and the dialogue that deals with exposition (honestly, it didn't feel like much and came across as logical and necessary). I'd rank this as the second best X-Men film, just behind X2 (probably my favourite superhero film ever).
In a market that's being overcrowded with comic book films and crowded out by the 'official' Marvel stuff, X-Men: Days Of Future Past more than holds its own and ushers in what might become a real rival for the Avengers franchise, with more X-Men films upcoming and solo outings planned (the first of which will be Gambit). Excellent stuff, very enjoyable.
by Paul M. Feeney
Visit with Paul on facebook
Australian release 22 May 2014
For credits and official site details, see below
Search Festivale for more work by the film-makers below.

See also:

for movie, TV show, or person

Film commentary and upcoming movie release dates at reel-life.info

Just the facts:

Title: X-Men: Days of Future Past (2014)
Written by: Simon Kinberg (screenplay), Jane Goldman & Simon Kinberg & Matthew Vaughn (story)
Directed by: Bryan Singer
Running time: 131 min
Rating: M

---

The Players: Hugh Jackman, James McAvoy, Halle Berry, Anna Paquin

---

Official website: www.x-menmovies.com
IMDb entry

---

For session times of current films, use the cinema listings on the Movie links page. For scheduled release dates, see the coming attractions section.

For more information about this movie, check out the internet movie database.
For the latest additions to Festivale, check out the change history section.
For posts about Melbourne events, places, news, reviews, giveaways, see our Facebook Page: