A Reel Life film section
Issue: Autumn 2015
The Emperor's New Clothes (2015) movie review
Who's Scamming Whom?
Definition: Fairytale, allegorical
1. Collective ignorance of an obvious fact, or deception, despite undeniable evidence.
Russell Brand brings his unique energy and human touch to shed the light on the outrageous greed of the wealthy and the struggles of the people whose work and income they feed upon.
Starting with the genesis of today's economic policies, with the arrival of Milton Friedman's school of thought embraced during Reagan's leadership and Thatcher's UK, the film explores how these policies have come to dominate the western world.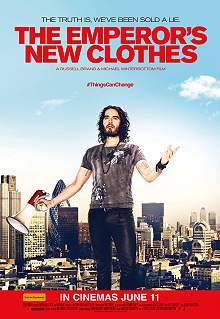 The rich have got richer. Where a CEO of a major British company used to earn 10 times the average wage of their workers, now they earn 200 times their wage. According to Oxfam, the richest 80 people in the world own as much as the poorest 3.5 billion. It would now take 300 years for the average cleaner, cleaning the offices of a senior boss, to earn the same salary taken home by the same boss last year.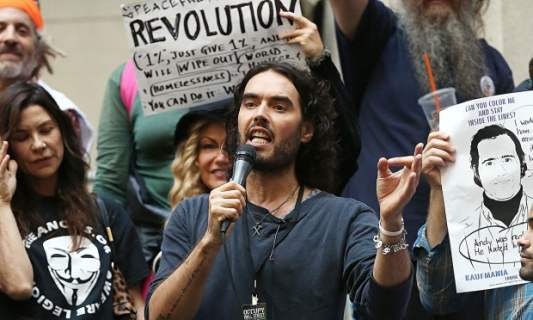 Brand quotes statistics, he sits in the homes of people struggling to get by, he interviews experts and tries to approach the bankers who earn so much and pay so little back in taxes.
He singles out several banks, Apple and Google, who maintain a statelessnes that frees them from taxes and makes them extremely poor corporate citizens.
Brand manages all his on-air time with, well, grace. He nicks a chip from a passerby, he hugs a man who claims friendship, he answers a youngster who keeps interrupting, and he bonds with police called in to roust him.
This is an altogether fascinating, enraging, amusing documentary that combines entertainment with information in the best possible way. Highly recommended.
by Ali Kayn
Australian release 11 June 2015
For credits and official site details, see below
Search Festivale for more work by the film-makers below.
See also: Trailer

for movie, TV show, or person

Just the facts:

Title: The Emperor's New Clothes (2015)
Written by: writer_name
Directed by: Michael Winterbottom
Running time: 101 mins
Rating:

---

The Players: Russell Brand,

---

Official website:
IMDb entry

---

For session times of current films, use the cinema listings on the Movie links page. For scheduled release dates, see the coming attractions section.

For more information about this movie, check out the internet movie database.
For the latest additions to Festivale, check out the change history section.
For posts about Melbourne events, places, news, reviews, giveaways, see our Festivale Online Facebook Page: