Youth is Italian director Paolo Sorrentino's second English-language feature film. Its star-studded cast-which includes Michael Caine, Harvey Keitel and Rachel Weisz (of The Constant Gardener fame)-would seem to be draw card enough.
Add to this the movie's fabulous Swiss alpine settings, opulent cinematography, and minor roles played by the likes of Jane Fonda, Youth would seem to be a 'sure thing'. It somehow fails for the most fundamental reason-it lacks a story 'heart'.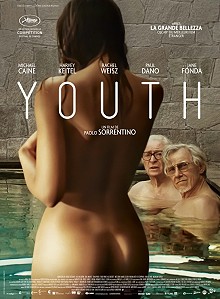 Youth follows two octogenarian best friends, retired composer Fred Ballinger (Michael Caine), and working movie director Mick Boyle (Harvey Keitel), as they vacation in a Swiss health resort. Ballinger is at the resort at the behest of his daughter/manager Lena (Rachel Weisz) in an effort to sort out his general life apathy. Boyle is at the resort with team of young film 'wannabes', as the group workshops the finishing touches on what Boyle insists will be his last, and greatest, movie.
Much of the movie focuses on reflective dialogue between the two old friends, recounting past loves, laughs, successes and failings. Both men are endeavouring to address the imperfect nature of both their lives, and how this sits with their apparent professional success. Both men wrestle with their final projects -Ballinger's retirement and musical vacuum, and Boyle's cinematic 'testament'. These particularly serious themes are juxtaposed with comedy: the mens' arguments over one particular lover of six decades past, their morning review of their urinary functions, and their cruel observations of the other hotel guests.
The three main characters, Ballinger, his daughter and Boyle, are rich and pithy, providing the top-fleet cast with plenty to work with. As would be expected, all three provide amazing performances.
Yet despite all these apparent positives, Youth fails on two fronts. Firstly, it is very much a 'bloke's movie'. While it has wonderful female actors and performances, the story is particularly skewed towards to the two male leading roles and their perspectives on the world. The important role of Ballinger's daughter, Lena, is somehow incomplete, while other female roles in this movie are rather two-dimensional. My guess is that Youth will leave female audiences flat.
Secondly, Youth takes on the difficult task of being both a drama and a comedy. The transitions between these two genres are essentially clunky; there is a sense that the stellar cast, amazing settings and wonderful cinematography are endeavouring to cover up these transitions. The difficult question of 'drama' versus 'comedy' seems to rob Youth of a true story heart; there is sense that it is somewhat aimless.
by Alan Alderson
Australian release 26 December 2015
For credits and official site details, see below
Search Festivale for more work by the film-makers below.
See also:

for movie, TV show, or person

Film commentary and upcoming movie release dates at reel-life.info

Just the facts:

Title: Youth (2015)
Written by: Paolo Sorrentino
Directed by: Paolo Sorrentino
Running time: 118 mins
Rating:

---

The Players: Michael Caine, Harvey Keitel, Rachel Weisz, Paul Dano, Jane Fonda

---

Official website: www.pathefilms.com/film/youth
IMDb entry

---

For session times of current films, use the cinema listings on the Movie links page. For scheduled release dates, see the coming attractions section.

For more information about this movie, check out the internet movie database.
For the latest additions to Festivale, check out the change history section.
For posts about Melbourne events, places, news, reviews, giveaways, see our Facebook Page: