---
---
A Reel Life film section
Issue: Winter 2016
American Made (2017) movie review
Drugs spelled "C.I.A."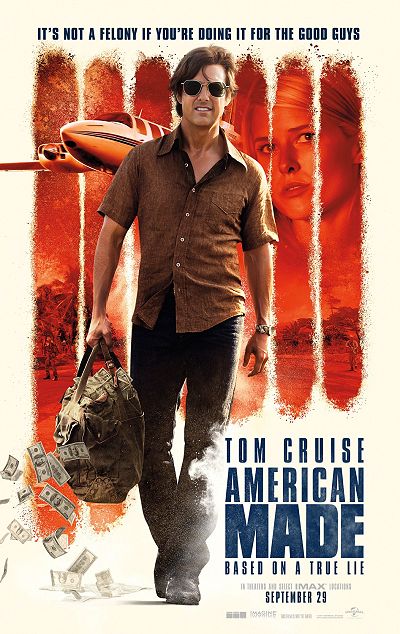 A pilot is recruited by the CIA and finds himself running one of the biggest covert operations in the history of the United States.
Movie originally filed under the title MENA.
When it comes to reviving the finances of a family, or a town, nothing seems to beat pallet loads of money.
"The gringo that always delivers."
In the 1980s American ex-TWA pilot Barry Seal ran a little cargo service to and from South America for the Medellín Cartel (Pablo Escobar). Seal became a drug trafficker, gun smuggler and money launderer.
Enter The Company, and a clandestine operation that would be exposed as the Iran-Contra Affair. Senior Regan administration officials facilitated the sale of embargoed arms to Iran intending to fund the Contras, a right-wing rebel group in Nicaragua.
This is Barry's strange story, and the story of the town that floated on the ridiculous amounts of cash that Seal needed to wash.
AMERICAN MADE runs crazily through this crazy story, riding heavily on the charm of Cruise's acting. Seal is out of control, and the audience must just hold on for the ride.
All in all, not a bad way to spend time. Just a bad way to run a country.
Links to official sites below
by Ali Kayn
Australian release 05 2017
US release 05 2017
For credits and official site details, see below
Search Festivale for more work by the film-makers below.
See also: Tom Cruise appears in Risky Business; Mission Impossible movie series; Eyes Wide Shut (1999); Magnolia (2000) ; Minority Report (2002); Edge of Tomorrow; War of the Worlds (2005); Top Gun and Top Gun: Maverick (2022);

---

for movie, TV show, or person

Just the facts:

Title: American Made (2017)
Written by: Gary Spinelli
Directed by: Doug Liman
Running time: mins
Rating: MA15+

---

The Players: Tom Cruise, Domhnall Gleeson,Jesse Plemons, Lola Kirke, Sarah Wright,

---

Official website:
IMDb entry

---

For session times of current films, use the cinema listings on the Movie links page. For scheduled release dates, see the coming attractions section.

For more information about this movie, check out the internet movie database (IMDb).
For the latest additions to Festivale, check out the change history section.
For posts about Melbourne events, places, news, reviews, giveaways, see our Festivale Online Facebook Page: