---
---
A Reel Life film section
Issue: Summer 2015-6
The Winter's Tale (2015) movie review
Jealousy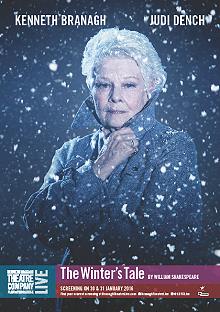 A jealous king jeopardizes his family, friendships and succession
William Shakespeare's timeless tragicomedy of obsession and redemption, as reimagined by co-directors Rob Ashford and Kenneth Branagh in a new production following their triumphant staging of Macbeth in Manchester and Manhattan.
I wondered how to prepare for seeing Kenneth Branagh's A Winter's Tale. I'd never seen or read this play, and didn't know the story. My plan was to look up the synopsis at least, and be ready to make wise comments.
But, time ran out on me, and I went in to Cinema Nova completely "unspoiled". If you think you'd also like to see A Winters Tale without spoilers, I'll insert a spoiler warning when we get to that bit.
This is a filmed presentation of a stage play - so, it's not a film. That's the first thing you need to understand. There was a real audience in theatre the night they filmed, and we are seeing it just like they were.
The presentation begins with a useful discussion by Branagh about what guided him in directing this play. He aims to make the language conversational, not declamatory. I relaxed a little on hearing that.
The play begins, and we see Branagh enjoying life a a king with a young family, and a neighbouring king visiting. Drama happens and it's all quite riveting.
Well worth seeing, and Judi Dench is in it, and she's fabulous. Also, during the interval, there are a few short features on the screen, including a fantastic poem read by Rob Brydon. So although it's a twenty minute interval, try to come back from the bar after ten minutes. See, I give you the practical stuff you need to know!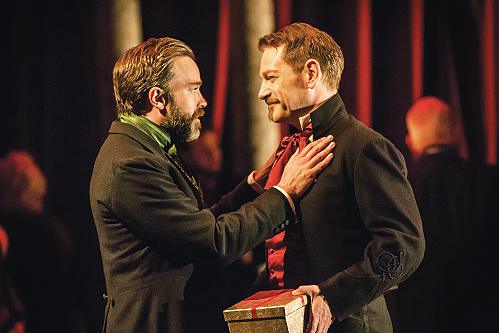 *** Spoilers ahead ***
Are they gone? The people who didn't want the plot ruined for them? Ha ha, what a bunch of losers! I mean, how hard is it to read a quick synopsis?
Anyway, now it's just us, the people who know what weird stuff happens in this play.
Apparently, A Winter's Tale sometimes gets classified as a comedy - sure , it's one of those harrowing, death-filled comedies you hear so much about. The drama is intense. The scene where Antigonus "exits, pursued by a bear" is properly scary. There is a bear too.
The lighter moments are charming. Grown-up Perdita raised a real smile from the audience members with her pretty northern accent.
I think there are two challenges in this play. The director must decide if our king has any reason to be as jealous as he is. And later, the director must decide if the resolution is supernatural or a clever scheme.
For the first, Branagh has firmly decided that the King is being irrational. This ramps up the drama wonderfully, as we all mutter "what a drama queen that king is!".
For the second, my theatre-going partner and I debated which way he had gone. It seemed on a first viewing that the resolution was being presented as supernatural, and it was a bit disappointing. A statue coming to life? Seriously? I had to check the text later, and it seemed to have more clues pointing to the clever solution, that Paulina had made it all work out.
That seemed to also explain why that character was played by the star actor, Dame Judi Dench. Who is fabulous, of course.
So, was Branagh voting for supernatural, or voting for clever but doing it badly, or presenting it for us to make up our own minds? Maybe ask a cleverer critic than me.
I'm left feeling that it was a marvellously dramatic presentation, and a worthwhile night out, but with questions left unanswered. And of course, I'm hungry now to see a different presentation of the same play. Damn you, Branagh!




by Pauline Laing
Australian release 30 January 2016
For credits and official site details, see below
Search Festivale for more work by the film-makers below.
See also:

for movie, TV show, or person

Just the facts:

Title: The Winter's Tale (2015)
Written by: William Shakespeare
Directed by: Kenneth Branagh
Running time: ; mins
Rating:

---

The Players: Pierre Atri, Jaygann Ayeh, Tom Bateman, Kenneth Branagh, Jessie Buckley, Vera Chok, Jack Colgrave Hirst, John Dagleish, Judi Dench, Hadley Fraser, Adam Garcia, Rudi Goodman, Matthew Hawksley, Taylor James, Pip Jordan, Ansu Kabia, Stuart Neal, Michael Pennington, Zoe Rainey, Miranda Raison, Michael Rouse, John Shrapnel, Kathryn Wilder And Jimmy Yuill

---

Official website: www.branaghtheatre.com/the-winters-tale/
IMDb entry

---

For session times of current films, use the cinema listings on the Movie links page. For scheduled release dates, see the coming attractions section.

For more information about this movie, check out the internet movie database (IMDb).
For the latest additions to Festivale, check out the change history section.
For posts about Melbourne events, places, news, reviews, giveaways, see our Facebook Page: