---
---
A Reel Life film section
Issue: Summer 2015-6
Ghostbusters 3: Girls vs Ghouls (2016) movie review
The Ghouls Are Back In Town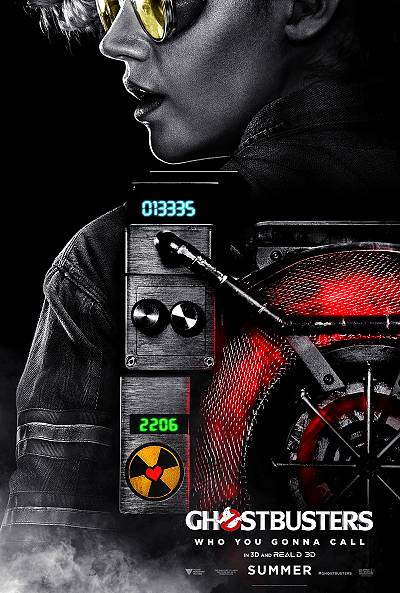 A reboot of the popular 1980s film, a group of scientists investigate and hopefully capture supernatural beings.
Erin Gilbert (Kristen Wiig) is a serious, if awkward, scientist who is about to get tenure at Columbia University when a book she co-wrote with a childhood friend, Abby Yates (Melissa McCarthy) is re-released. Drummed out of academia, she hunts down Abby to find her and her lab partner, scientist and engineer Jillian Holtzmann (Kate McKinnon) in a unprestigious institution. When they too are turned loose, the group seeks a place to research into, and capture, supernatural creatures. Patsy Tolan (Leslie Jones), a transit employee joins the group as the fount of local knowledge. As a receptionist they hire eye-candy Kevin (Chris Hemsworth). Kevin is not the brightest bulb on the Christmas tree.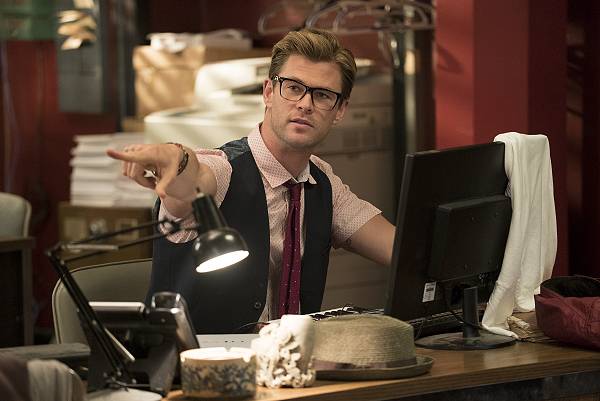 Ghostbusters is written by Katie Dippold and director Paul Feig, but with Dan Aykroyd and Ivan Reitman producing (among many others), it seems likely that there was input from the original team.
This reboot has attracted a lot of controversy. While it is far from the frist time that a film has been made swapping genders, it is possibly the most successful and popular film that has had the treatment.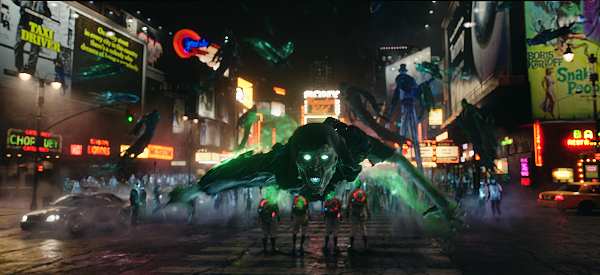 Richard Hryckiewicz and I saw the film together and while he said he was trying to match original characters to reboot characters, I didn't compare characters, I just let the story unfold.
Unlike most U.S. productions, the protagonists in ghostbusters are not beautified. In fact, Wiig and McKinnon in particular are dressed down. Hemsworth is the beauty in this film.
Needless to say there is a lot of special effects, mad technology and ghost chasing. Why spoil the fun? This Ghostbusters is tremendous fun. It takes a fresh approach to the concepts of the original, but is not above making little references. And members of the original cast make cameos to add to the fun for fans of the original.
And, yes, this time the ghostbusters are female. Get over it fanboys. Ivan Reitman, director of the original films and producer this time around says,"What's really exciting about Paul's take is that it's not about the gender," he says. "It's the friendship of four particular characters as they do something extraordinary."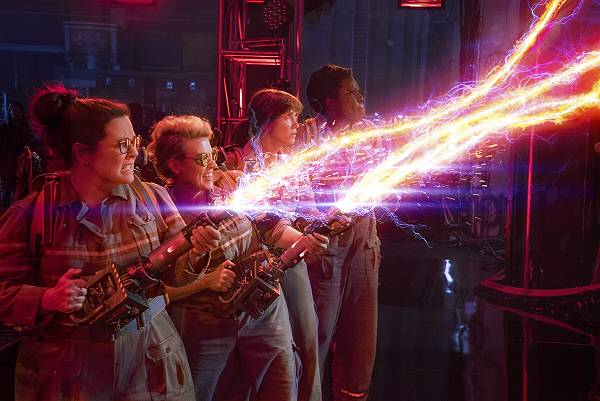 The actors throw themselves into their roles. They are great fun to watch and clearly enjoyed making the film. This is an ensemble film, the actors complement one another, but Kate McKinnon is worth a particular mention. She throws her whole body into the role of engineer Jillian Holtzmann. I think she might have been a muppet in a previous life.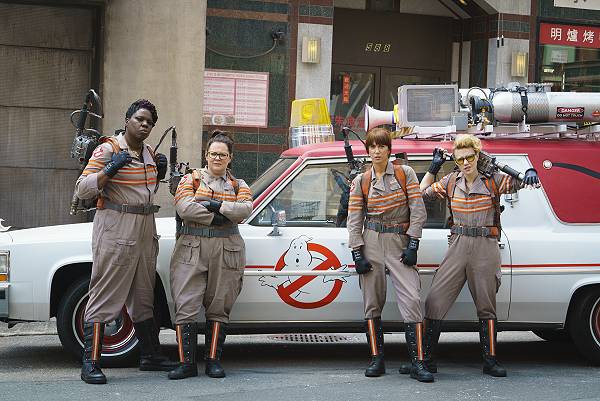 Absolutely get your butt into a theatre seat and watch the 21st century ghostbusters. And stay for the whole show. The end credits are stunning, and there is the hook after them that suggests that a sequel is in our future.
For a good time, call them. Ghostbusters.
Official Site: www.ghostbusters.com
Facebook: facebook.com/Ghostbusters
Twitter: twitter.com/Ghostbusters
Instagram: instagram.com/Ghostbusters
Tumblr: Ghostbustersmovie.tumblr.com
Snapchat: Ghostbusters
#Ghostbusters
All images are property of Sony Pictures Entertainment Inc. for promotional use only. sale, duplication or transfer of this material is strictly prohibited
by Ali Kayn
Australian release 14 Jul 2016
U.S. release 9 Jul 2016
For credits and official site details, see below
Search Festivale for more work by the film-makers below.
See also:

for movie, TV show, or person

Just the facts:

Title: Ghostbusters 3: Girls vs Ghouls (2016)
Written by: Paul Feig
Directed by: Paul Feig
Running time: mins
Rating:

---

The Players: Melissa McCarthy, Chris Hemsworth, Kristen Wiig, Sigourney Weaver, Kate McKinnon, Bill Murray, Elizabeth Perkins, Annie Potts, Andy Garcia, Dan Ackroyd, Annie Potts, Ernie Hudson,

---

Official website: ghostbusters.com
IMDb entry

---

For session times of current films, use the cinema listings on the Movie links page. For scheduled release dates, see the coming attractions section.

For more information about this movie, check out the internet movie database (IMDb).
For the latest additions to Festivale, check out the change history section.
For posts about Melbourne events, places, news, reviews, giveaways, see our Facebook Page: