---
---
A Reel Life film section
Issue: Winter 2016
League of Exotique Dancers (2015) movie review
Age Cannot Wither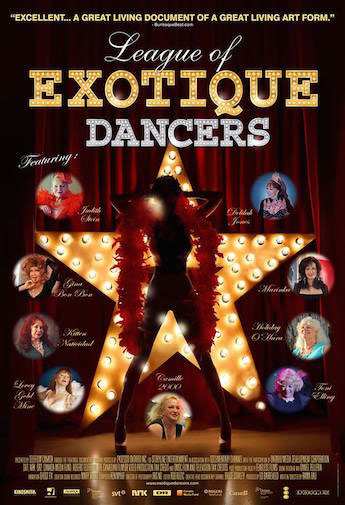 League of Exotique Dancers explores vintage Burlesque's world of fun, frolic, and feathers, yet also turns the spotlight on the poverty, racism, and sexism that were rampant under all that glitter.
Director Rama Rau's League of Exotic Dancers looks at a number of Burlesque dancers/strippers whose hey day was around 30 odd years ago and how they feel about it now.
It was an interesting view of old style burlesque/stripping and hearing the various women speaking of how they got into it and what they got out of it was most enjoyable !
It was not at all salacious and it really was not what I was expecting. Having said that, I thoroughly enjoyed a look at where these people came from and how they had managed to survive to today.
There are eight people that Ms Rau followed on screen and gave us a glimpse into their lives, which were not all glitz and glitter.
All of these people had also been invited to perform at the League of Exotique Dancers in Las Vegas and all participated and found that they had not lost the enjoyment of performing, even if elderly and, in some cases, needing assistance to walk ... from wheelchair bound to canes !
We get to see all of these dancers in their homes in present day remembering, sometimes with fondness, sometime with bitter sweetness, their times in the spotlight.
None of these people ever felt that they were being exploited and this came through quite obviously. All had at some stage decided this was what they wanted to do, and for the time, the bravery displayed was astonishing. We're talking the 1960s and 1970s where women was not supposed to have minds of their own and do this sort of stuff (stripping and dancing in public for money ! )
Overall, while not really giving anything like an in depth look at burlesque, it does open a window on what the life was like at the time, it's effect on these particular women and, to a lesser extent, on aging and how it has affected these particular people.
Links to official sites below
by Richard Hryckiewicz
For credits and official site details, see below
Search Festivale for more work by the film-makers below.
See also:

for movie, TV show, or person

Just the facts:

Title: League of Exotique Dancers (2015)
Written by: Rama Rau
Directed by: Rama Rau
Running time: mins
Rating:

---

The Players: Gina Bon Bon, Toni Elling, Lovey Goldmine, Delilah Jones, Marinka, Kitten Natividad, Holiday O'Hara, Judith Stein

---

Official website: http://www.burlesquehall.com/the-exotic-dancers-league
www.exotiquedancers.com
Facebook
IMDb entry

---

For session times of current films, use the cinema listings on the Movie links page. For scheduled release dates, see the coming attractions section.

For more information about this movie, check out the internet movie database (IMDb).
For the latest additions to Festivale, check out the change history section.
For posts about Melbourne events, places, news, reviews, giveaways, see our Facebook Page:
Buy from Amazon