---
---
A Reel Life film section
Issue: Autumn 2016
Money Monster (2016) movie review
Chase the Money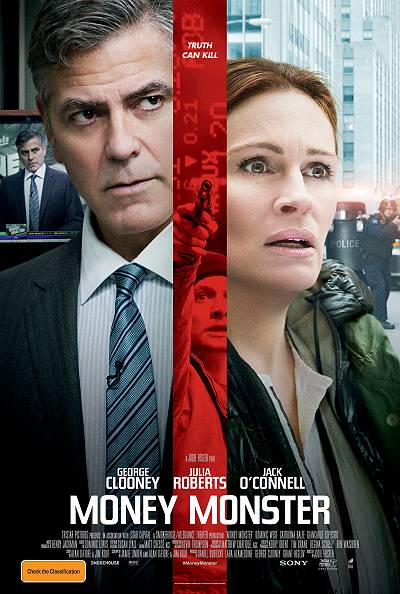 Financial TV host Lee Gates (George Clooney) and his producer Patty (Julia Roberts) are put in an extreme situation when an irate investor (Jack O'Connell) takes over their studio. During a deadly standoff broadcast to millions on live TV, Lee and Patty must work furiously against the clock to uncover the truth behind a tangle of big money lies -- while also keeping themselves and their crew members alive in the process.
Money is the preoccupation of our times. Forget the power of information, of the value of data, it's all about those numbers. How much money? Even if it isn't real, even if it's just ones and zeros on the hard drives of the world, people who don't have it need it, people who have it want more, and people who have more want it all. How many Lear Jets can a CEO possibly own? You'd be surprised.
Somehow the money has become the dream, and our worth is increasingly tied up in how much, how many, how quickly.
Lee Gates (George Clooney) has a whizz-bang money show. He combines being a clown with acumen, he is disdainful and shallow, and no doubt pulls in a serious pay cheque. When a stock that Gates called safe tanks to the tune of US$800 million, Gates wants answers, but not as much as the gun-toting Kyle who comes on set with an explosive vest for Gates.
Kyle's question is simple. What happened to the money. The alleged "computer glitch" isn't an answer he is accepting.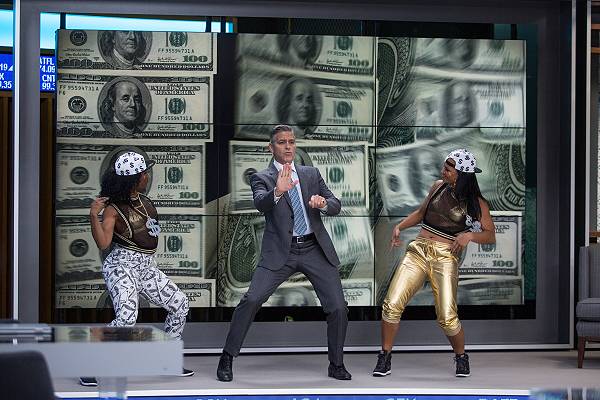 So what is the answer? Reminiscent of films such as The Negotiator, Money Monster has multiple story lines. In the studio, producer Patty (Julia Roberts) is trying to keep Gates and the crew alive while running a live, unscripted network show. Gates and Kyle are building their own dynamic as hostage-taker and hostage. Outside in the world, the subject of discussion IBS is in turmoil, with the CCO (Chief Communication Officer - the PR person) Dianne Lester (Caitriona Balfe) going off script reluctantly to find the truth, while no-one in the organisation can quite work out where the CEO is. Patty and Lester each run investigations to find the money.
Meanwhile the cops are planning a takeover.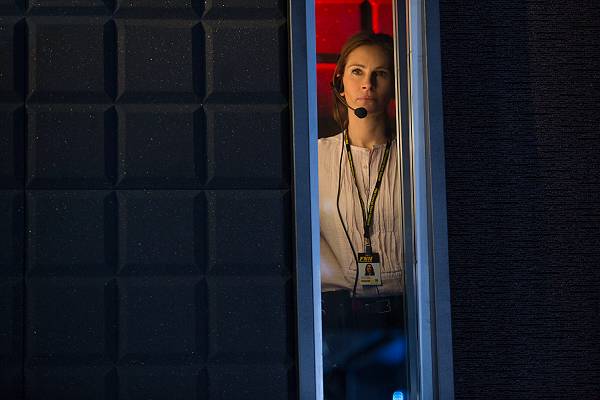 All this action ties together nicely. Characters and relationships develop and change as the action continues, and uncomfortable truths come out.
The morality of handling big money, of walking away from small shareholders, the dramatic losses that swings can cause for people, these are things that are implied, not stated aloud. Money Monster is a suspense thriller that is compelling to watch and interesting to think about.
by Ali Kayn
Australian release 02 June 2016
For credits and official site details, see below
Search Festivale for more work by the film-makers below.
See also:

for movie, TV show, or person

Just the facts:

Title: Money Monster (2016)
Written by: Jim Kouf & Alan DiFiore (story), Jim Kouf & Alan DiFiore & Jamie Linden (scr)
Directed by: Jodie Foster
Running time: 99 mins
Rating:

---

The Players: George Clooney, Julia Roberts, Jack O'Connell, Dominic West,

---

Official website: https://www.facebook.com/MoneyMonster/
IMDb entry

---

For session times of current films, use the cinema listings on the Movie links page. For scheduled release dates, see the coming attractions section.

For more information about this movie, check out the internet movie database (IMDb).
For the latest additions to Festivale, check out the change history section.
For posts about Melbourne events, places, news, reviews, giveaways, see our Facebook Page: