---
---
A Reel Life film section
Issue: Autumn 2016
A Perfect Day (2015) movie review
Crisis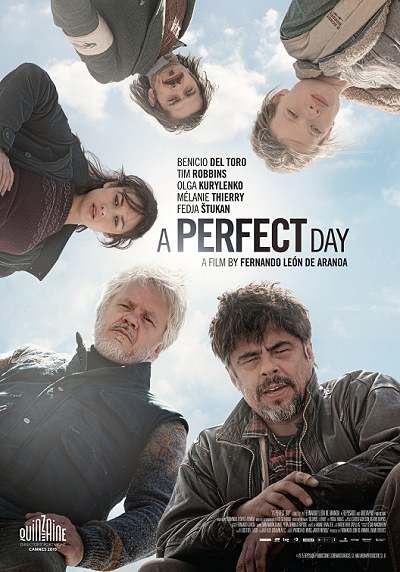 Do you really know what goes on in a day in the life of a small group of aid workers?
A dead body is being drawn out of a well somewhere in the mountains of the Balkans. Villagers sit and watch and make jokes while the aid worker Mambrú (Benicio del Toro) and his translator Damir (Fedja Stukan) use their frayed rope to slowly remove the corpse.
Writes director and scripter Fernando León de Aranoa, "This film is about the people charged with the difficult task of bringing order to chaos. And it portrays their daily attempts to wage a war within another war: against irrationality, against despondency. Against their immense desire to return home -- aid workers.
Like them, this film uses humor to distance itself: the wittiest comments, comedy at its wildest and grittiest, at its most desperate, often happens in the very midst of tragedy. Because there is no place on Earth where it is more necessary."
When the rope breaks, Mambrú calls to the second vehicle in their team. B (Tim Robbins) is driving Sophie (Mélanie Thierry) a newbie and their water purification expert. Together the two cars and their passengers are responsible for water and sanitation problems in their area.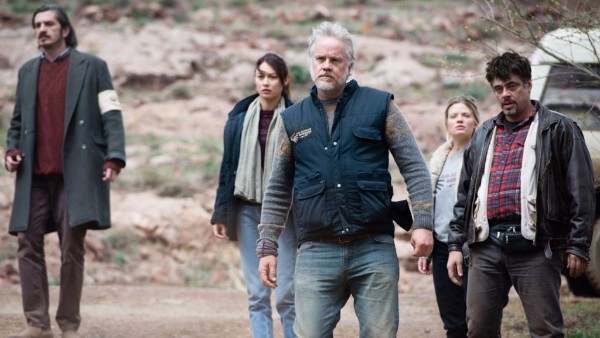 The team needs rope. And in the next 24 hours or so they try to find rope, or assistance, while encountering hostility, armed combatants, a war-swept young boy (Eldar Residovic), brainless bureaucracy, death, destruction and personal issues.
A Perfect Day is based on Paula Farias' novel Dejarse llover. A doctor and emergency coordinator for Médecins Sans Frontières. Farias writes about the cruelty of war with humour and an appreciation of the absurd.
The team is multinational, and they, together with Katya (Olga Kurylenko) who does conflict evaluation and analysis, represent different personalities and motivations. Mambrú is security, he is in his last week, and he is practical, determined and a little frayed around the edges. B is a linguist, an adrenaline junkie with a crazy sense of humour. Sophie is new, enthusiastic, and idealistic. She provides the others with an opportunity to explain what is going on, and we see her realise that protocol isn't going to cut it in the 'real world'. Nikola, the boy, is a civilian who personalises the losses, and Katya is a pragmatist who reminds us that the aid organisations have finite resources.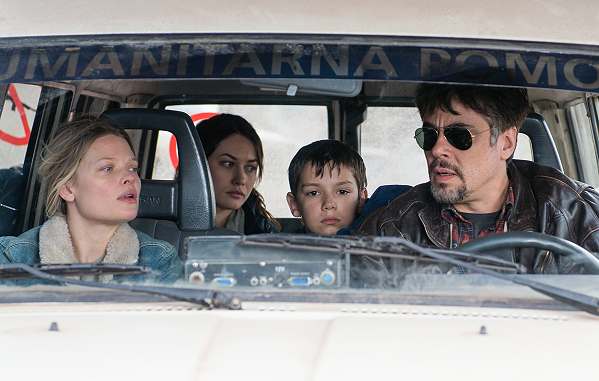 It is not easy for those of us with drinkable water from a tap and a roof over our heads to understand the hardships and loss of countries at war. We see news footage of military actions, without realising how much inaction is also taking place.
"The well is not clear."
"My notes say it is."
The blue helmets (U.N. forces) are not shown in the best light. More paper-pushers in tanks than a fighting force. This is one of the many insights that we can gather from A Perfect Day.
"Show it, don't say it" is a mantra of the film industry, and here we have an excellent example. A Perfect Day doesn't overtly preach or make judgements. It shows us what the aid workers have to deal with, and what the population have to do to survive.
It is impossible not to think of M.A.S.H. and Catch-22 when considering this movie. Even the recent Whiskey Tango Foxtrot comes to mind. But these aid workers are non-combatants, and they are never going to gain celebrity or leverage their experience into a high-powered career.
A Perfect Day has black comedy, but it is not played for laughs. It's played for insight. See it.
Links to official sites below
by Ali Kayn
Australian release 09 June 2016
For credits and official site details, see below
Search Festivale for more work by the film-makers below.
See also:

for movie, TV show, or person

Just the facts:

Title: A Perfect Day (2015)
Written by: Fernando León de Aranoa, Diego Farias (scr), Paula Farias (novel)
Directed by: Fernando León de Aranoa
Running time: 105 mins
Rating:

---

The Players: Benicio Del Toro, Tim Robbins, Olga Kurylenko, Mélanie Thierry, n

---

Official website: Facebook
IMDb entry

---

For session times of current films, use the cinema listings on the Movie links page. For scheduled release dates, see the coming attractions section.

For more information about this movie, check out the internet movie database (IMDb).
For the latest additions to Festivale, check out the change history section.
For posts about Melbourne events, places, news, reviews, giveaways, see our Facebook Page: