---
---
A Reel Life film section
Issue: Autumn 2016
Rams (2015) movie review
A Shock To The System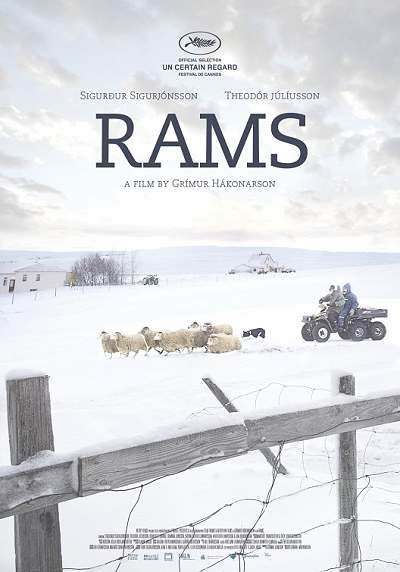 WINNER 2015 Cannes International Film Festival, Prix Un Certain Regard, and 11 EDDA Awards (Iceland's Academy Awards) including Best Picture, Director, Lead and Supporting Actors. Majestically shot in a spectacular, weather-swept valley, this wryly observed fable about two brothers who are more obstinate than the sheep they breed begins as a droll comedy about rural life and grows into a graceful and mythic tale about family, community and legacy.
You don't often get to review a film made in Iceland and Rams is a doosie. This film starts quietly in the small world of two brothers. Sheep farmers who live barely a house away in the isolated wilds of an Icelandic valley. But they do not talk. They have not talked for thirty years. In the silence of the landscape we as audience begin to pile up questions but in true country style no answers are forth coming. You have to pay your money and go along for the ride to get the pay off.
It is so deceptively comic to begin with the strange tale of two brothers who have not spoken to each other for thirty years that when it imperceptibly turns into something deeply profound about love, loyalty and legacy we as the audience are sort of whirled away in the crescendo of the final scene. Quite a mighty result for something that begins so calmly and so domestically in the sweeping landscape of an Icelandic valley.
The film's director is Grímur Hákonarson, born in Iceland in 1977. His first feature film was Summerland from 2010, for which Grímur was nominated for the Edda Award for Best Screenplay. His second feature is Rams.
Rams is beautifully shot and scripted to create a nuanced interaction between landscape, human desire and individual and society responsibility that it almost happens without you realising it.
Rams was the WINNER of the Prix Un Certain Regard in 2015 at the Cannes International Film Festival which is no mean feat. It also won 11 EDDA Awards (Iceland's Academy Awards) including Best Picture, Director, Lead and Supporting Actors. It is an Icelandic and European hit. I think it is the best thing that I have seen from this general part of Europe since Let the right one in and Rare Export - two equally idiosyncratic films which leave one pondering the nature of your own little view of the world.
You would be silly not to go and see it.
For posts about Melbourne events, places, news, reviews, giveaways, see our Facebook Page: