---
---
A Reel Life film section
Issue: Winter 2016
Teenage Mutant Ninja Turtles: Out of the Shadows (2016) movie review
They're Back!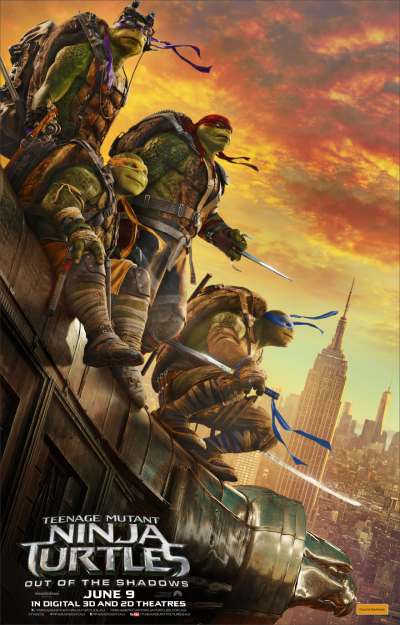 Welcoming back our favourite heroes in a half shell: Michelangelo, Leonardo, Raphael, Donatello and the gorgeous Megan Fox to our screens.
Teenage. Mutant. Ninja. Turtles. The name says it all -- there is a specific audience envisaged for this cartoon/comic superheroes series.
TMNT2 (Out of the Shadows) is a live-action/CGI animation feature film. The special effects were pretty amazing. There were some seconds of poor registration, but by and large the cinematography was excellent, and we could accept the characters within their universe.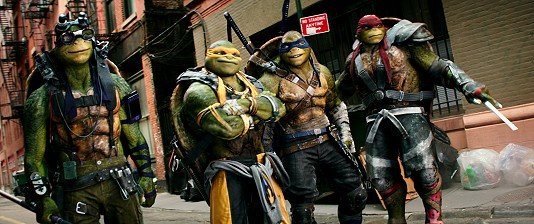 This film is the classic/cliche story of a group that has to be made into a team, a boss who has to become a leader, and accepting oneself.
So, yes. This is a SFX extravaganza, but leavened with some characterisation and plotting. It is essentially a cartoon and should be approached as such. TMNT2 will not challenge you, but taken for what it is, it can be entertaining, and a film that the whole family can see.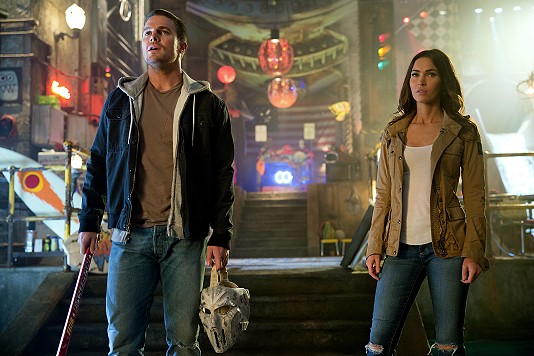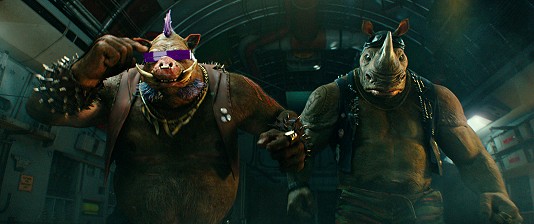 Trailers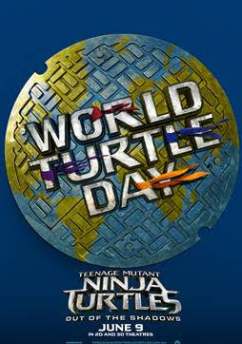 For upcoming films, official sites and more check out our Coming Attractions on This is Reel Life our movies supplement.
Like our Reel Life Facebook page for first looks, news, links to reviews, the latest giveaways and more.
by reviewer unassigned
Australian release 9 June 2016
US release 3 June 2016
For credits and official site details, see below
Search Festivale for more work by the film-makers below.
See also:

for movie, TV show, or person

Film commentary and upcoming movie release dates at reel-life.info

Just the facts:

Title: Teenage Mutant Ninja Turtles: Out of the Shadows (2016)
Written by: Josh Appelbaum & André Nemec (written by)
Peter Laird and Kevin Eastman (Teenage Mutant Ninja Turtles characters)

Directed by: Dave Green
Running time: mins
Rating:

---

The Players: Tony Shalhoub, Megan Fox,Stephen Amell,Alan Ritchson Alessandra Ambrosio, Gary Anthony Williams, Stephen Farrelly, Laura Linney,

---

Official website: Facebook


Twitter: @ParamountAU
Instagram: @ParamountAU
#NinjaTurtles2

IMDb entry

---

For session times of current films, use the cinema listings on the Movie links page. For scheduled release dates, see the coming attractions section.

For more information about this movie, check out the internet movie database.
For the latest additions to Festivale, check out the change history section.
For posts about Melbourne events, places, news, reviews, giveaways, see our Facebook Page: