---
---
A Reel Life film section
Issue: Summer 2015-6
Zoolander 2 (2016) movie review
The Zoo is Back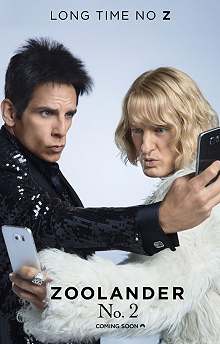 Derek and Hansel are modelling again when an opposing company attempts to take them out of the business.
Zoolander 2 follows on in the same zany parody of Fashionistas that began in Zoolander 1. Like most film sequels it doesn't reach the same height of shock and hilarity of the original but it does deserve credit for introducing some wonderful moments which will live with me as memes of the future. What more can you ask from a parody about celebrity and fashion?
First you have the incredible 'character' called the orgy, Hansel McDonald's (Owen Wilson) love interest which is an entity made up of something like 17 people male female etc. Hilarious especially when Hansel actually gets sprung by the original Orgy just about to be unfaithful with another orgy.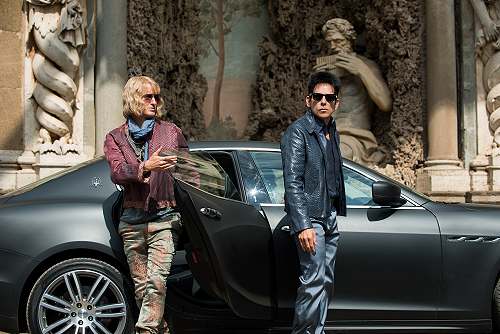 Another priceless moment is the character played by Benedict Cumberbatch as All who is obviously a parody of someone like Madame GAGA. Top shelf freak out. There are lots of famous people playing themselves which gives the whole thing the feel of an "It's a mad, mad world" meets famous people's home movies. Ben Stiller as Derek Zoolander, Owen Wilson as Hansel McDonald with Penélope Cruz as Valentina Valencia Zoolander's new love interest, Will Ferrell as Jacobim Mugatu their arch enemy.
Then there are the celebs as you have never seen them before taking the piss out of themselves: Sting as himself, Hansel's father, Katy Perry as herself, Neil deGrasse Tyson as himself, Tommy Hilfiger as himself, Naomi Campbell as herself, Lewis Hamilton as himself, Jourdan Dunn as herself, Ariana Grande as herself, Susan Sarandon as herself, Kiefer Sutherland as himself, Billy Zane as himself, Skrillex as himself, Susan Boyle as herself, ASAP Rocky as himself, MC Hammer as himself, Anna Wintour as herself, Mark Jacobs as himself ,Olivia Munn as herself. Even Willy Nelson turns up.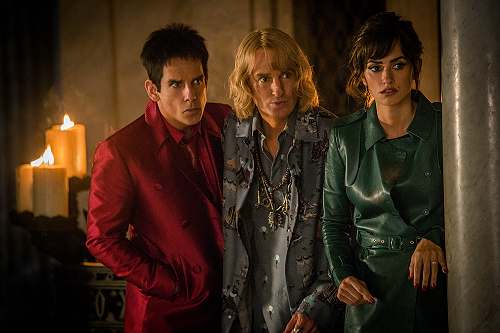 The whole thing starts with Justin Bieber being hunted down like a wish fulfilment sequence - I mean an audience wish fulfilment sequence. It just goes to show Ben Stiller has a lot of mates who just want to have fun.
It is hard to believe that a film with so much going on and with so many plot devices could work on any level but Zoolander 2 does. It is just plain silly with a few priceless elements.
by Annie McLoughlin
Australian release 11 Feb 2016
For credits and official site details, see below
Search Festivale for more work by the film-makers below.
See also:

for movie, TV show, or person

Just the facts:

Title: Zoolander 2 (2016)
Written by: Justin Theroux & Ben Stiller & Nicholas Stoller & John Hamburg; Drake Sather & Ben Stiller (character Derek Zoolander)
Directed by: Ben Stiller
Running time: 100 mins
Rating:

---

The Players: Ben Stiller, Benedict Cumberbatch, Owen Wilson, Kristen Wiig, Will Ferrell, Penélope Cruz, Macaulay Culkin, Billy Zane, Justin Bieber,

---

Official website: http://www.zoolander.com/
IMDb entry

---

For session times of current films, use the cinema listings on the Movie links page. For scheduled release dates, see the coming attractions section.

For more information about this movie, check out the internet movie database (IMDb).
For the latest additions to Festivale, check out the change history section.
For posts about Melbourne events, places, news, reviews, giveaways, see our Facebook Page: