<!end navbar-->
---
---
Where are we?
Guidebook's Australian Maps
Map of Fitzroy Gardens
One of the most interesting things about the Fitzroy Gardens is that the paths are laid out in the same cross-combination formation as the union jack, which for the moment at least is on in the Australian flag.
Set aside as a reserve in 1848, the gardens are names for Sir Charles Augustus Fitzroy, Governor of New South Wales (1846-1851) and Governor-General of the Australian Colonies (1851-1855). It was classified by the National Trust in 1974 and placed on the Victorian Heritage Register in 1999.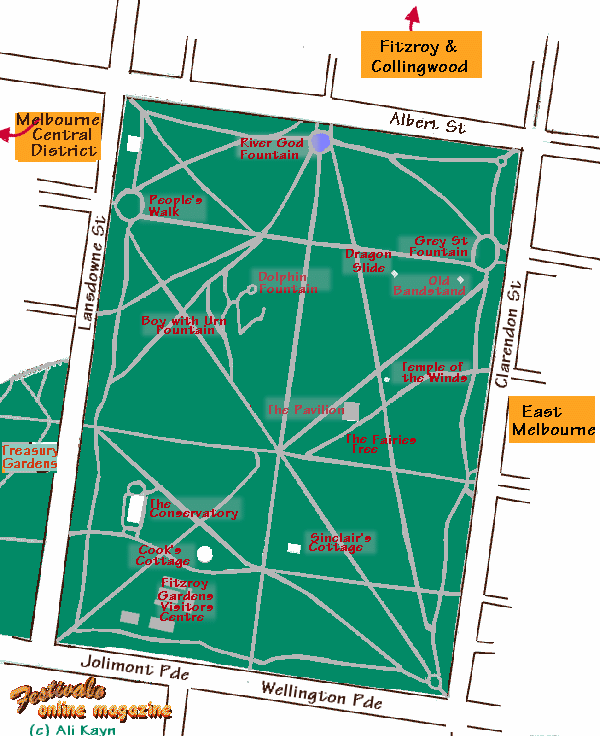 Items of interest:

Fitzroy Gardens (guidebook entry),
River God Fountain, Dolphin Fountain, Boy with Urn Fountain, Grey Street Fountain, Rill and Fern Gully, Rotunda, People's Path, Dragon Slide in playground, Fairies Tree, Model Tudor Village, Cab man's Shelter, Heritage buildings: Conservatory, Cook's Cottage, Sinclair Cottage, Propagator's Cottage, Glasshouse, Workshop building

Related maps:
zoom out to Melbourne central district map
zoom out to Fitzroy and Treasury Gardens area map

go to Carlton Gardens map
zoom in to Fitzroy Gardens guidebook entry
zoom in to Treasury Gardens map
zoom in to Treasury Gardens guidebook entry

See also:

Nearby Yarra Park and Melbourne Cricket Ground, Melbourne Park, Treasury Gardens

For posts about Melbourne events, places, news, reviews, giveaways, see our Facebook Page: