---
---
Bob Freeman
answers the Usual Questions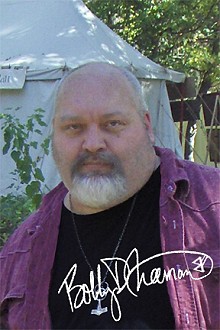 Bob Freeman is an author, artist, and paranormal adventurer.
A lifelong student of mythology, folklore, magic, and religion, Freeman has written numerous short stories, articles, and reviews and is a respected lecturer on the occult and paranormal phenomena.
Has your interaction with fans, for example, at conventions, affected your work?
Not particularly, beyond the positive reinforcement that such meetings generally engender.
Is there any particular incident (a letter, a meeting, a comment that stands out?
Well, there was one instance in which a fan asked that I perform an exorcism on her husband, whom she was convinced was possessed by an especially nasty demonic entity. That was... unusual, to say the least.
Do you have a favourite author or book (or writer or film or series) that has influenced you or that you return to?
My favorite author is, unquestionably, Robert E. Howard. He wrote with a fiery passion that few others have ever come close to matching. A natural storyteller, Howard was a master of mood and atmosphere, infusing his prose with true grit and a visceral desperation.
Who is the person you would most like to be trapped in a lift with? or a spaceship?
Jimmy Page, preferably if we had a couple of acoustic guitars and a bottle of Single Malt to help pass the time.
Who is the person you would most DISlike to be trapped in a lift with? Or a spaceship?
A deaf/mute.
What would you pack for space? (Is there a food, beverage, book, teddy bear, etc that you couldn't do without?)
A guitar, pen & paper, a complete collection of Marvel's Savage Sword of Conan, and my wife and son.
What is the most important thing you would like to get/achieve from your work?
Readers.
What is the special satisfaction of your work?
World-building. There's nothing better than constructing your own sandbox and then inviting other people to come play in it.
submitted by Bob Freeman
24 July 2014
For other answers to The Usual Questions Click here
Just the facts:
Born: ...in the wilds of Indiana, in 1966, under curious circumstances.
Resides: ...in the wilds of Indiana, under even curiouser circumstances.
Bibliography/Awards:
Bibliography @ The Occult Detective
Web site:
The Occult Detective
Bob Freeman on Facebook
Bob Freeman on Twitter


For posts about Melbourne events, places, news, reviews, giveaways, see our Facebook Page: