---
---
Brian Knight
answers the Usual Questions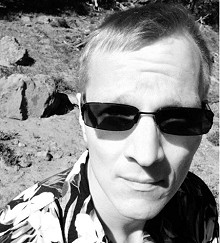 Author Brian Knight lives in Washington State with his family and the voices in his head.
Has your interaction with fans, for example, at conventions, affected your work?
Absolutely. I love my readers, so I'll jump on any chance to make them happy. Usually it just means letting them be first readers of a new work (that's very selfish actually, since I'm sure it helps me a lot more than it pleases them), but sometimes I model characters after readers and give them a chance to see themselves killed in print. They enjoy it more than you might think.
Is there any particular incident (a letter, a meeting, a comment that stands out?
I'm sure there would be, if my memory wasn't so bad.
Actually there is one instance where a reader I met at a con made me very nervous about mixing with strangers. A very nice guy, well dressed, very well spoken, with a ton of books to get signed, a few of them mine. He vanished halfway into the convention, and I later found out it was because he got VERY inappropriate with a young girl and was physically ejected from the hotel. You just never know.
Do you have a favourite author or book (or writer or film or series) that has influenced you or that you return to?
F. Paul Wilson and his Repairman Jack series. Repairman Jack is always knocking around in my head, and his adventures did encourage me to take my own work in a new direction.
Who is the person you would most like to be trapped in a lift with? or a spaceship?
Neil Degrasse Tyson, because he is brilliant.
Who is the person you would most DISlike to be trapped in a lift with? Or a spaceship?
Ken Ham, because he is a moron.
What would you pack for space? (Is there a food, beverage, book, teddy bear, etc that you couldn't do without?)
Coffee. A lot of coffee. And then some more coffee. No need to worry about food. If I'm up there for more than a few days I can always eat Ken. Ham is tasty.
What is the most important thing you would like to get/achieve from your work?
I just want to show my readers a good time. I want to make them happy for a while.
What is the special satisfaction of your work?
It lets me have adventures, and sometimes act very antisocially by proxy. I can be bad without consequence.
submitted by Brian Knight
31 July 2014
For other answers to The Usual Questions Click here
Just the facts:
Born: The unfashionable end of the Western Spiral arm of the Milky Way Galaxy. More specifically the Pacific Northwest of the United States, just a few hundred miles east of some very sparkly vampires.
Resides: About ten miles closer to those same vampires.
Bibliography/Awards:
Brian Knight has published over a dozen novels and novellas and two short story collections in the horror, dark fantasy, and crime genres. Several of his short stories have received honorable mentions in Year's Best Fantasy and Horror.
Web site:
brian-knight.com
Facebook


For posts about Melbourne events, places, news, reviews, giveaways, see our Facebook Page: