---
---
Carol Weekes
answers the Usual Questions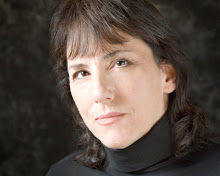 Canadian author Carol Weekes writes on her web site, "I write primarily in the Horror, Dark Fantasy, Crime/Suspense genres, although I have branched out into mainstream, literary, and cross-genres."
Has your interaction with fans, for example, at conventions, affected your work?
Yes, it has. Hearing peoples' reactions to stories or elements within stories such as how work frightened them, moved them, inspired them, or helped them with their own writing has acted as inspiration and encouragement.
As well, hearing different reactions to the same work has allowed me to realize that no two readers are alike. Some will love a work, some will like it, some may dislike something about a story. It's all very subjective, but enlightening.
Is there any particular incident (a letter, a meeting, a comment that stands out?
Myself and a co-author had some readers respond emotionally to a novel, Ouroboros, a combination of love and ghost story, in on-line comments after reading the book. The book impacted on them in deep ways that impacted on me.
Do you have a favourite author or book (or writer or film or series) that has influenced you or that you return to?
Many in both mediums, but to streamline the response, some authors have been Bradbury, Steinbeck, King, Straub, Etchison, Grant, Gifune, Kilpatrick, Cato to name a few; films...geez, again hard to narrow it down, but for tension some of the best films I've enjoyed have been Jaws, the original Exorcist, Rosemary's Baby, Stand By Me, The Changling.
Who is the person you would most like to be trapped in a lift with? or a spaceship?
Tarantino, to discuss screenplays and story ideas.
Who is the person you would most DISlike to be trapped in a lift with? Or a spaceship?
Again, not easy (there are too many); anyone with extreme views who can't bend even the slightest.
What would you pack for space? (Is there a food, beverage, book, teddy bear, etc that you couldn't do without?)
Books, pencils, and paper; it's all food for thought.
What is the most important thing you would like to get/achieve from your work?
To entertain and, hopefully, inspire readers, as well as to frighten the hell out of them.
What is the special satisfaction of your work?
Writing's as integral as any other necessary daily need; putting words down on paper that I feel 'ring' with the effect I want provides a great sense of joy and fun.
submitted by Carol Weekes
21 August 2014
For other answers to The Usual Questions Click here
Just the facts:
Born: Ste. Rose, Quebec, a little town north of Montreal.
Resides: Eastern Ontario, Canada
Bibliography/Awards:
Past work has been nominated by the HWA and the Aurora award; bibliography can be seen on my website.
Web site:
www.carolweekes.com

For posts about Melbourne events, places, news, reviews, giveaways, see our Facebook Page: