---
---
Chris McMahon
answers the Usual Questions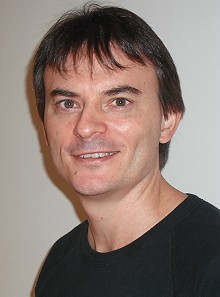 Being able to escape into the realm of the imagination was handy growing up as the youngest in a family of eleven. Chris continues his fantasy and SF writing habit from his home town of Brisbane, where he lives with his lovely wife Sandra and three young children, Aedan, Declan and Brigit. He has a third-dan black belt in Moon Lee Tae Kwon Do and also enjoys movies and exploring narrow alleyways. Chris is very passionate about music, if a little inconsistent, and loves singing and playing classical guitar.
Has your interaction with fans, for example, at conventions, affected your work?
No, not really. Selling books and signing at events, for example at the local (Australian) Supanova, has been a lot of fun. It's also something that happens irregularly for me, so it's not an unreasonable thing.
Is there any particular incident (a letter, a meeting, a comment that stands out?
The only thing that stands out in my memory are the crazy costumes that fans tend to wear at Supanova. One of the most memorable things was talking to an entire family in Dr Who costumes, right down to a 4 year old Weeping Angel. Cool.
Do you have a favourite author or book (or writer or film or series) that has influenced you or that you return to?
Definitely David Gemmell - a British Heroic Fantasy author that unfortunately died way too young in 2007. I love Gemmell's books, and continue to return to them again and again. The only one I have never read is the crime novel he published under the name of Ross Harding - getting hold of that is like finding hen's teeth.
Who is the person you would most like to be trapped in a lift with? or a spaceship?
Stephen Amell, the lead actor from the Arrow TV series. Only because I think he would be ABSOLUTELY PERFECT to play my character Cedrin in a movie version of my three-book Heroic Fantasy series, the Jakirian Cycle.
Who is the person you would most DISlike to be trapped in a lift with? Or a spaceship?
A comedian. No joke:)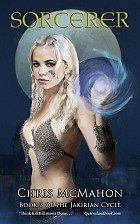 What would you pack for space? (Is there a food, beverage, book, teddy bear, etc that you couldn't do without?)
An ipod with all my music and all my David Gemmell novels:) Oh, and a packet of Atomic Tomato potato chips.
What is the most important thing you would like to get/achieve from your work?
Being able to make the journey from print into film would be awesome. I have always loved film, but there are limited opportunities for genre' series and movies, and very little in the way of local (Brisbane, Australia) Writer's Rooms. If I lived in L.A. maybe it would be different. . .
What is the special satisfaction of your work?
To make my readers happy. To share my world with them and have them enjoy the journey. That's the ultimate. To have people allow you that special place in their minds is truly a privilege.
submitted by Chris McMahon
12 August 2014
For other answers to The Usual Questions Click here
Just the facts:
Born: Brisbane, Australia.
Resides: Yes guessed it - Brisbane, Australia.
Bibliography/Awards:
Chris's three-book series, the Jakirian Cycle, is hot off the press! Heroic Fantasy in a world of ceramic weapons, where all metal is magical. Think Kill Bill meets Dune!
Chris's SF story Eyes of Erebus (Daikaiju2) and SF short Within Twilight were both short-listed for the Aurealis Awards (2007 & 2002). He has won the One Book, Many Brisbanes competition twice (2005 & 2009). He was the winner of the Silver Lake Publishing Quest contest (2003) with Fantasy novella Flight of the Phoenix, which was published in the EPPIE award nominated Fantasy Readers Wanted - Apply Within anthology. He also won third place in the Orb Speculative Fiction short-story competition with the SF short Buggy Plague (2002).
Chris's work has appeared in various anthologies as well as Aurealis magazine, Orb Speculative Fiction and Redsine magazine (refer to www.chrismcmahon.net for a full list of publications).

Web site:
www.chrismcmahon.net

For posts about Melbourne events, places, news, reviews, giveaways, see our Facebook Page: