---
---
Erryn Arkin
answers the Usual Questions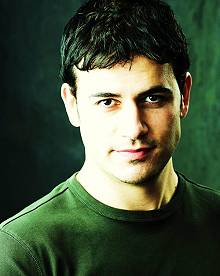 Arkin trained in screen acting at NIDA in Sydney. In Los Angeles, Erryn Arkin studied at the Ivana Chubbuck Studio. He is currently working on projects in Australia.
Has your interaction with fans, for example, at conventions, affected your work?
Yes, as an actor it's great to receive feedback from people who have seen you perform, particularly at film festivals. On a creative level, the director influences how I work the most - but ultimately it is the people in the audience who I see as the judges of the final product.
Is there any particular incident (a letter, a meeting, a comment that stands out?
Positive words from anyone I meet or work with always stands out for me.
Do you have a favourite author or book (or writer or film or series) that has influenced you or that you return to?
The Alchemist by Paulo Coelho
Who is the person you would most like to be trapped in a lift with? or a spaceship?
Well that all depends for how long I'll be trapped with them for! I admire people who retain their humility even after great successes, so in terms of who I would one day like to meet, that would include public figures such as Sir Richard Branson and Peter Jackson, but it could be anyone who displays these qualities.
Who is the person you would most DISlike to be trapped in a lift with? Or a spaceship?
Being the youngest of four kids, I would say probably any one of my older siblings (jokingly of course).
What would you pack for space? (Is there a food, beverage, book, teddy bear, etc that you couldn't do without?)
Chocolate ice-cream
What is the most important thing you would like to get/achieve from your work?
To portray a variety of characters which further my craft as an actor and also entertain viewers, hopefully for many years.
What is the special satisfaction of your work?
Being able to inhabit many different imaginary worlds and challenge myself everyday.
submitted by Erryn Arkin
March, 2010
For other answers to The Usual Questions Click here
Just the facts:
Born: Sydney, Australia
Resides: Anywhere my work takes me, but Sydney is my home.
Bibliography/Awards: Selected film and TV credits include:
The Illustrator
Crime Investigation Australia
Home and Away
Cedar Boys
Killer
Full bio available from Official Site
Web site: www.errynarkin.com


For posts about Melbourne events, places, news, reviews, giveaways, see our Facebook Page: