---
---
J. G. Faherty
answers the Usual Questions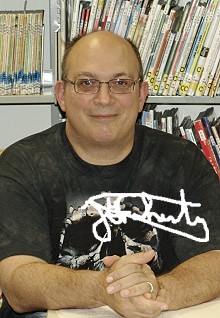 Author J. G. Faherty remembers seeing Night of the Living Dead as a child. He says, "After that, I couldn't get enough dismemberments, disembowelments, and exploding skulls."
Has your interaction with fans, for example, at conventions, affected your work?
I don't think so. My star hasn't risen to the point where I'm deluged with fans at conventions. However, I do a lot of literacy programs and library presentations through the Horror Writers Association, and that's given me some insight into how today's YA (young adult) audience is reading, and what they crave.
In particular, their tastes and comprehension levels are more adult than what you might think.
Is there any particular incident (a letter, a meeting, a comment that stands out?
Well, there was the funny time a person mistook me for Peter Straub. Even gave me one of Peter's books to sign. And then there were a few odd balls I met at Comic Con New York in 2013. Harmless stuff, but it reminds you that there is a wide range of fiction out there well beyond the edges of what most people might consider extreme or hard core.
Do you have a favourite author or book (or writer or film or series) that has influenced you or that you return to?
Many. Growing up, my tastes ranged from Stephen King, Dean Koontz, Peter Straub, F. Paul Wilson, and Karl Edward Wagner to Alan Dean Foster, David Gerrold, Robert Heinlein, James Blish, and Piers Anthony. There are probably dozens of books I've read and re-read over the years, some of them probably a dozen times, if not more. Nowadays, with so many books in my TBR (to be read) pile, I don't usually have that luxury. But every once in a while you think of a novel or short story you want to read again, and you can't help it, despite all the other stuff you need to do. Last year I re-read Journey to the Center of the Earth and 20,000 Leagues Under the Sea. That's the nice thing about ebooks - you've always got a mini library with you wherever you are, even on vacation or in the doctor's office.
Who is the person you would most like to be trapped in a lift with? or a spaceship?
Um, that would have to be Kate Upton. Or maybe Cindy Crawford. Or Rachelle Lefevre. But I'm guessing you meant what author I'd want to be trapped with. I'd have to go with someone I know, 'cause then there'd be a lot to talk about and we could tell each other stories. Tom Monteleone. He's a hoot. Michael McBride. Rena Mason. Or possibly Harlan Ellison, because he'll find a way to get us rescued.
Who is the person you would most DISlike to be trapped in a lift with? Or a spaceship?
Any of these ultra conservative, god-before-science semi-intelligent yahoos you see in the news all the time.
What would you pack for space? (Is there a food, beverage, book, teddy bear, etc that you couldn't do without?)
That's an easy list. My kindle or tablet, so there'd be plenty to read without taking up much room. Coffee, some good port wine, and juice to change things up. Pizza, tacos, pasta, burgers. A computer for writing. My guitar. My ipod. I'd also add my wife and a dog, but you're talking inanimate stuff.
What is the most important thing you would like to get/achieve from your work?
Popularity? Greater quality? Recognition? Longevity? I guess they're all tied in together.
What is the special satisfaction of your work?
For me, it's when you look back on something that you've worked long and hard on, and got tempted to give up on so many times, and you re-read it later and realize, damn, this is pretty good after all. There's also the satisfaction you get when readers tell you how something you wrote scared them, or hit them with an emotional left hook, or captured their attention so much they couldn't put the book down. That's a great feeling.
submitted by J. G. Faherty
1 August 2014
For other answers to The Usual Questions Click here
Just the facts:
Born: Olean, NY, a small upstate town near Buffalo. January 27, 1961
Resides: Lower Hudson Valley region of NY, home of hauntings, UFOs, and our own version of Bigfoot.
Bibliography/Awards:
Novels:
Carnival of Fear
Ghosts of Coronado Bay
The Burning Time
Cemetery Club
Novellas:
Fatal Consequences
Castle by the Sea
Thief of Souls
The Cold Spot
He Waits
Short Stories:
More than 50 in various horror, science fiction, and fantasy magazines/ezines/anthologies
Awards:
Nominee, Thriller Award, International Thriller Writers (2014)
Nominee, Bram Stoker Award® (2011)

Web site:
www.jgfaherty.com
Facebook
www.twitter.com/jgfaherty



For posts about Melbourne events, places, news, reviews, giveaways, see our Facebook Page: