---
---
Julie Fison
answers the Usual Questions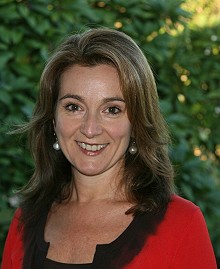 Australian writer Julie Fison has been a television news reporter, working in Australia, Asia and Europe, covering stories of all sizes and significance -- shaking hands with heads of state one week and orangutans the next.
Has your interaction with fans, for example, at conventions, affected your work?
Meeting fans at schools and festivals is always rewarding. Primary school children are great fun to be around and their energy is very infectious.
Is there any particular incident (a letter, a meeting, a comment that stands out?
I remember after a festival in central Queensland, a group of students were asked to share what they'd learned from the visiting authors. Each student had gained something useful about writing, but a boy who had been in my group reported that orangutans could be very sneaky and stole your money when you least expected it. It wasn't really what I had intended to emphasize, but at least he was engaged by my Borneo story!
Do you have a favourite author or book (or writer or film or series) that has influenced you or that you return to?
I learn something from every book that I read, but John Green's writing stands out for me. His ability to weave humour and tragedy into his stories is very inspiring.
Who is the person you would most like to be trapped in a lift with? or a spaceship?
I wouldn't mind being trapped in a lift with John Green.
Who is the person you would most DISlike to be trapped in a lift with? Or a spaceship?
It would be shame if I had to share the lift with his two million Twitter followers.
What would you pack for space? (Is there a food, beverage, book, teddy bear, etc that you couldn't do without?)
I'd definitely bring my two sons and hubby along for the adventure.
What is the most important thing you would like to get/achieve from your work?
I'd be happy with an international best seller or two.
What is the special satisfaction of your work?
I love every aspect of the writing process. When I'm working on a story, I can't wait to get to my desk in the morning and start writing. When my ideas dry up I take the dog for a walk, or get away for the computer. It's pretty ideal, really.
submitted by Julie Fison
14 August 2014
For other answers to The Usual Questions Click here
Just the facts:
Born: Mackay, Queensland
Resides: Brisbane, Queensland
Bibliography/Awards:
Choose Your Own Ever After series (Hardie Grant Egmont) 2014:
How To Get To Rio
The Call of the Wild
Smitten series (Hardie Grant Egmont) 2013-2014:
Tall, Dark and Distant
Lust and Found
Counterfeit Love
Hazard River series (Ford Street Publishing) 2010-2011:
Blood Money
Toads' Revenge
Tiger Terror
Bat Attack
Snake Surprise
Shark Frenzy

Web site:
juliefison.com
Facebook


For posts about Melbourne events, places, news, reviews, giveaways, see our Facebook Page: