---
---
T.G. Arsenault
answers the Usual Questions
T. G. Arsenault is an American horror writer of short and long fiction.
Has your interaction with fans, for example, at conventions, affected your work?
Definitely. Although I may be low on the totem pole of horror writers, conventions allow you to meet and chat with potential readers that may not find you otherwise. I always enjoy meeting new people with a common interest in all things horror. This interaction with fans and writers at conventions also provides an unbelievable source of (and sometimes much needed) motivation to spend those long hours, alone, creating.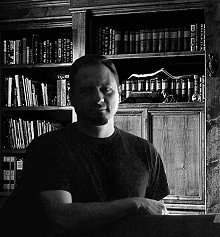 Is there any particular incident (a letter, a meeting, a comment that stands out?
Yes, the first time I have ever given a reading at a convention, this one being Anthocon 2013, in Portsmouth, NH. I was reading my short story, My Aching Black Heart, released in the anthology, Anthology Year 2: Inner Demons Out. I put so much of myself and my personal experiences (with some variations) into it that I literally choked up, almost to tears, while reading certain passages. When that happened, I knew I had to look that deep - if not, deeper - into myself whenever writing any story to always bring the emotional element into my work.
Do you have a favourite author or book (or writer or film or series) that has influenced you or that you return to?
Probably the answer of many a writer, but my first introduction into horror was from my father, who was a big Stephen King fan. SK grew up about thirty minutes from my hometown of Auburn, Maine and my dad devoured his books in the eighties. At twelve, my father gave me Carrie to read and I was immediately hooked to the horror genre. At thirteen, I had the chance to meet SK at the opening of the movie, Christine in Lewiston, Maine. I was in so much awe I could barely hand over my paperback copy (what was I thinking??? - well, it was all I could afford) of Christine without dropping it from my shaking hands. I started writing after that event. Nowadays, I am a huge Robert McCammon, Joe Lansdale, and F. Paul Wilson fan and devour anything they put out.
Who is the person you would most like to be trapped in a lift with? or a spaceship?
Ray Bradbury, just to pick his brain.
Who is the person you would most DISlike to be trapped in a lift with? Or a spaceship?
Someone who can't stop talking.
What would you pack for space? (Is there a food, beverage, book, teddy bear, etc that you couldn't do without?)
Books, books, books - as many that could fit (or a Kindle, but at least one hard copy, so I could always smell it), and paper and writing utensils. I think that is all I need to live. Oh, and the best backscratcher EVER that my son picked up for me in Florida ... an alligator paw on a stick!
What is the most important thing you would like to get/achieve from your work?
The ability to create a story where readers lose themselves, believe in characters I have created, and close the book satisfied.
What is the special satisfaction of your work?
Creating stories I would enjoy reading. Especially once the characters start doing things on their own or changing directions when I least expect it.
submitted by T.G. Arsenault
26 July 2014
For other answers to The Usual Questions Click here
Just the facts:
Born: Born in Lewiston, Maine
Resides: Currently living on the outskirts of Rochester, NY after retiring from the U.S. Air Force. Hoping to move to Florida in the very near future.
Bibliography/Awards:
NOVELS
Forgotten Souls - Gallows Press, 2013 (Trade Paperback)
Bleeding the Vein - Gallows Press, 2012
Forgotten Souls - Five Star Publishing, 2005
SHORT STORIES
Symphony of the Ancient Gods - Canopic Jars: Tales of Mummies and Mummification, Great Old Ones Publishing, November, 2013
My Aching Black Heart - Anthology Year Two: Inner Demons Out, The Four Horsemen, November, 2013
Rotting Love - The Gallows, Gallows Press, 2012
Sealing the Shadows - Made You Flinch: Stories to Unnerve, Disturb, and Freak You Out, Library of Horror Press, 2011.
God Be Damned - Blastzone-online, 2006
Pick a Switch - Horrorfind, 2003
Keeper of the House - Octoberland, Flesh and Blood Press, 2002
The Eighth Day - R.A.W. - Random Acts of Weirdness, Catalyst Press, 2002. Honorable mention, Year's Best fantasy and Horror, Sixteenth Annual Collection
Feast for the Punished - Horrorfind, 2002
Captured Images - Sinister Element, 2001
Amelia - Dark Moon Rising, 2001

Web site:
www.tg-arsenault.com
Facebook
Twitter: @TG_Arsenault


For posts about Melbourne events, places, news, reviews, giveaways, see our Facebook Page: