---
---
Wayne Simmons
answers the Usual Questions
Belfast born, Wayne Simmons, has loitered with intent around the horror genre for some years. He penned reviews and interviews for several online zines before publication of his debut novel in 2008.
Has your interaction with fans, for example, at conventions, affected your work?
I think it has enriched my work. Writing can be a lonely sport and getting a chance to meet with readers at events really helps to create a real connection between writer and reader.
Is there any particular incident (a letter, a meeting, a comment that stands out?
One reader e-mailed to say how he'd been enjoying my zombie horror novel Flu so much that he locked himself in the bathroom to finish it.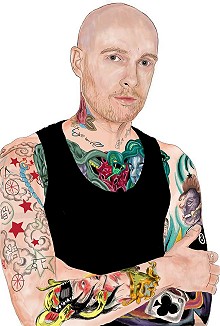 'Everyone was banging the door to get in,' he quipped, 'but I wasn't opening up until the very last page.' You can keep your glowing broadsheet reviews, that's all the praise I need right there.
Do you have a favourite author or book (or writer or film or series) that has influenced you or that you return to?
Lawrence Block's Scudder series is a big influence on my work. Gritty noir with engaging, emotive characters. David Moody's zombie horror series, Autumn, is a failsafe for similar reasons.
Who is the person you would most like to be trapped in a lift with? or a spaceship?
The guy/ gal who can fix it?
Who is the person you would most DISlike to be trapped in a lift with? Or a spaceship?
The guy/ gal who can't fix it and therefore panics.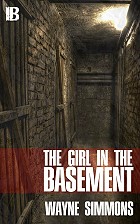 What would you pack for space? (Is there a food, beverage, book, teddy bear, etc that you couldn't do without?)
My guitar.
What is the most important thing you would like to get/achieve from your work?
I think it's important to appreciate and celebrate each milestone: first acceptance/ first book in Waterstone's or B&N/ first translation etc
What is the special satisfaction of your work?
The most satisfying thing about doing this is whenever I realise readers genuinely seem to like what I write.
submitted by Wayne Simmons
19 August 2014
For other answers to The Usual Questions Click here
Just the facts:
Born: Northern Ireland
Resides: Wales
Bibliography/Awards:
Flu (2010), Fever (2012)
Drop Dead Gorgeous (2011), Doll Parts (2012)
Plastic Jesus (2013)
The Girl In The Basement (2014)

Web site:
www.waynesimmons.org

For posts about Melbourne events, places, news, reviews, giveaways, see our Facebook Page: