Echuca-Moama
Echuca's historic port area offers the visitor a glimpse into the past through its preserved original facilities. These include an old river red gum wharf, with three separate levels to allow for the enormous differences in the height of the river.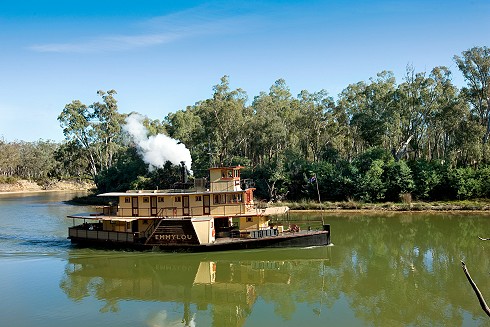 The area has been classified by the National trust, and restored buildings include the old brothel complete with a mock infamous lady, Doreen. Echuca grew up around a river crossing ferry run by ex-convict Henry Hopwood. Tourist venues include an old Penny Arcade with authentic old arcade machines, a theatre showing old Australian shorts, a wax museum and a Holden (car) museum.
Restoration of the old port area began in 1973. Paddle steamers again travel the local waters. Many original buildings contribute to an old streetscape and the wharf functions as a working steam port.
Attractions:
Historic Port
Murray River
Paddle steamers, houseboats and other river traffic
Barmah State Forest
Just the facts:
Contacts: Echuca-Moama website

Getting there: 206 kilometres north of Melbourne, two and a half hour drive from Melbourne on the Hume Freeway/Northern Highway.