Phillip Island
French Island, Churchill Island
Phillip Island is a drive of one and half hours from Melbourne, and connected to the mainland by bridge from San Remo. It is a popular holiday destination, its most famous attraction being the Little Penguins (also known as the Fairy Penguins).
The penguins return to Summerland Beach each evening to find their burrows. Viewing stands and raised broadwalks are provided to protect the penguins' habitat while enabling visitors to watch the penguins preen, greet one another and feed their chicks.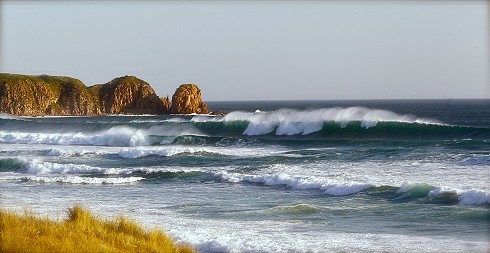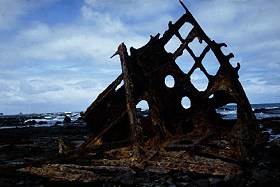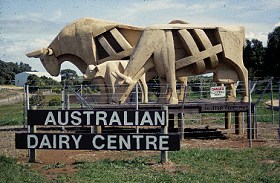 Dairy Centre, Phillip Island (c) Ali Kayn
Attractions:
Phillip Island Nature Park
: Penguin Parade, the Nobbies (headland) and Nobbies Centre marine attraction, Koala Conservation Centre
Australia's largest colony of fur seals: Seal tours, wildlife coast cruises
French Island
Churchill Island: Churchill Island Heritage Farm
Rhyll Swamp Wildlife Reserve, Rhyll Fishing Park
lookout on Conservation Hill.
Phillip Island Grand Prix Circuit:
Phillip Island Circuit Visitors Centre
, Champ Karts, 2009 Yamaha Phillip Island Round, V8 Supercars L&H 500 at Phillip Island, Australian Motorcycle Grand Prix
National Vietnam Veterans Museum
Just the facts:
Contact: Official tourism web site
For on site information, check out the Penguin Parade Visitor Centre.
Getting there: V-Line bus service operates to and from Melbourne daily, stopping at Grantville, Corinella, Bass, San Remo, Newhaven and Cowes. The V-Line train from Melbourne connects with the ferry service, which operates daily. Passenger ferry from Stony Point on the Mornington Peninsula to Cowes.
There is no scheduled bus service on Phillip Island.
See also: Penguin Pursuits, our boat trip to the protected area at St Kilda Pier.
More photos in our Phillip Island photoessay
Penguins at the Melbourne Aquarium
Penguin banding
wikipedia entry