Spring 2014
High Tea at the Hotel Windsor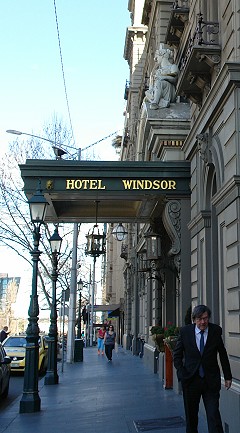 One of the joys of Melbourne is the number of historic buildings that remain, in use, in the city. At the top of the Melbourne central district, opposite Parliament House is the iconic Hotel Windsor.
Fans of Phyrne Fisher know the Windsor as her home when she first came to Melbourne. It has long been a premier spot for people with a taste for class.
On a sunny Spring afternoon, Richard Hryckiewicz and I experienced the supreme afternoon indulgence -- afternoon tea at the Windsor.
The building is gorgeous, and the room where we had the tea was bright with snowy white linen, shining glassware, chandelier - type lighting and highly polished wood.
The meal starts with sparkling wine (or juice, or soft drink), and a polite introduction from the waitstaff. Our lovely waiter asked if we had any special dietary requirements and my mind went blank.
After the wine was served out came the three tier stand with finger sandwiches, tiny cakes, lemon curd, jam, and fresh cream. Of course this is when I realised the cakes all had a bit of alcohol in them. The waiter was quick to step in, quoting 20 minutes to have fresh alcohol-free pastries made for me.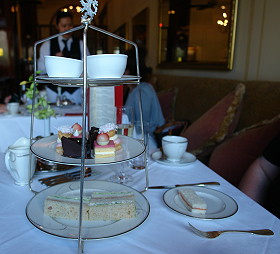 Can I say, yum? Already spoiled by the excellent sandwiches (we especially liked the chicken), I was offered a small vanilla mousse, a tiny lamington, and a couple of other treats together with a small serve of mixed berries. And while waiting for these, Richard and I were served a pair of excellent scones each.
I think scones mean something different in the U.S., but here they are light baked sweet bread-like treats which we ate with terrific lemon curd, or jam and cream.
There was coffee, as you like it, or a range of teas, served the traditional way in pots. I had both. Richard worked his way manfully through the treats, but the quantity and quality won the day.
Afternoon tea during the week is $69 per person for adults. On the weekend there is a dessert buffet and chocolate fountain bringing the cost up to $89. See the Hotel Windsor web site for detailed pricing, booking information, more about enjoying afternoon teas and general information about the hotel.
Were we happy? Absolutely. The food was great, the service excellent, the staff were well-presented, polite and friendly.
Afternoon tea at the Hotel Windsor is a treat not to be missed, for visitors and locals alike.
See also: Our
guidebook entry for The Hotel Windsor
Getting there:
111 Spring St, Melbourne
Near Parliament Station on the City (rail) Loop, top of Bourke Street, step off a Parliament House on City Circle Tram.