Jun-Aug, 2010
The Write Stuff in Reel Life
Writing teachers love to say "Write what you know". This is not necessarily bad advice, but it can be.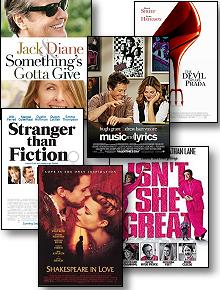 One of the worst films reviewed by your Festivale correspondents was prefaced by a breathless P.R. chick announcing that the green writer-director of the flick had done just that.
Write what you know means do your homework. Don't write about a love affair between cordon bleu chefs if you've only a passing acquaintance with restaurants and you've never cooked anything that didn't involve putting a plastic bag into a microwave oven. It means don't write what doesn't inspire you to inquire about. If you don't care to do the research -- don't insult the readership/audience with an unresearched story.
For example, how annoying is it when characters say "over AND out" when using a radio in movies and television shows? It's either "over to you" or "out" (and disconnect). It's like saying, "What do you think" and slamming the phone down before getting an answer. Rude. It isn't hard to look up a protocol or ask an expert. 5 by 5?
And so, What do writers know? Well many writers, from their biographical information, are people who have had to do many different jobs in many different fields in order to get by. You know the kind of thing, "John Smith has worked as a lumberjack, a day-care worker and sold outdoor furniture while working on his six-volume novel The Trials of Mary Sue".
Writers who have worked in The Real World bring real world experience and real world insight to their work. John Grisham, for example, knows a thing or two about the American legal system.
Writers who are really writers (not people who will write once they have their tax deductibles worked out) WRITE. Writers know the joy of a well-crafted sentence and the flash of insight, and the sheer, overwhelming awe instilled by Hemingweay's "white bull" -- the blank page.
Writers know about wanting, about thinking of an idea and wanting to enlighten others, of thinking of a character and wanting to introduce her or him to the readers. Writers know about feelings and beliefs and caring about a notion, an image, an invented world and wanting to share it.
Writers also know about wanting to pay the rent while wanting to write. And writers know about wanting to be read and understood -- to be "gotten".
All of which means that one thing writers know about is writing. Thus we have books and films that tell the stories of writers. Writers whose writing is a metaphor for wanting, a very human experience; writers who just happen to be writers within the story; and writers whose adventure is instigated or inspired by their writing.
Letters to Juliet is the story of a wanna-be writer -- a fact-checker for the New Yorker magazine who wants to be a writer but cannot bring herself to show her writing to the world. Sophie, our writer-heroine travels to Verona. Once there she writes to a woman on behalf of the fictitious Juliet (of Romeo and Juliet), and the woman and her grandson appear in Verona in film-magic-time to enable Sophie to join in their search for the older woman's long-lost love.
The older woman (Vanessa Redgrave) searches for the love of her youth -- her soul-mate -- and the younger woman searches for her vocation. Sophie must find both her voice and her courage to use it. Sophie represents all of us who have aspirations but lack the courage to face possible rejection.
Writing their way into love, Music & Lyrics's Alex Fletcher (Hugh Grant) and another Sophie (Drew Barrymore) find their voices and their love in the week during which they meet and write a hit song for the vapid teen-queen Cora.
Music & Lyrics is a frolicsome look at the 80s pop culture and the grown-ups who were young and hip then.
It also tells the story of people who are not living up to their potential until they have sufficient pressure put upon them -- and that once they begin to communicate with one another and to put pen to paper, they begin to blossom.
Music & Lyrics is about all human endeavour. You can't succeed unless you try.
When writers write about writing they can be writing about any other challenges that we face. Writing is a craft that has much room for self-doubt, self-denial and surmounting rejection. Writing is easy as long as you are willing to look deeply at the world and let the world have a look at you. And yes, have a talent for it and are willing to Do The Work.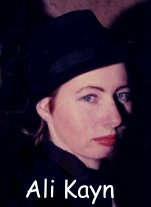 The writing experience in film can be fantastic, like Stranger Than Fiction where the author starts to hear his life being narrated, or like Something's Gotta Give, where the author's life becomes the fiction, or Author! Author! where being a writer proves to be an unglamorous job, and one which has to be balanced with the demands of parenthood.
The lives of writers like Jacqueline Sussan (Isn't She Great) and William Shakespeare (Shakespeare in Love) make for good tragi-comedies because writers are people too, they just get a chance to put their visions of the world out there for the rest of us to experience and hold up our own lives against.
'Tis a far, far braver thing they do than many of us would care to try.
Ali Kayn
Melbourne, Victoria, Australia.
May, 2010.
www.alikayn.com
---
By Writers About Writers and Writing
84 Charing Cross Road : Based on the correspondence between real-life writer Helen Hanff and a London bookstore's employees, this movie tells the story of a writer's love of the written word, and the bond that this love of books forges between people who never meet.
Basic Instinct : In San Francisco a cop (Michael Douglas) investigates an outrageous author (Sharon Stone) whose thriller-killing books have an unsettling similarity to her own life.
Irreconcilable Differences : A would-be writer (Shelly Long) is sidetracked into housewifery and real estate until the day she helps her husband to write a screenplay. She then discovers that the wife in any partnership is considered a minor appendage, and that writing in her own voice will help her rediscover her own life, as long as she keeps her perspective.
Isn't She Great : A real story about a real writer who didn't just write, but went on the road bookstore by bookstore to promote her book.
Just Write : A Hollywood tour bus driver (Jeremy Piven) who once did a course reluctantly pretends to be a scriptwriter in the city of posers and, after doing his research and putting his movie-loving head down, finally produces a good piece of work and gets the girl (Sherilyn Fenn).
The Lonely Guy : A writer (Steve Martin) who writes about what he knows -- being lonely -- becomes a best-selling author, but he needs to take chances in his life in order to find love.
My Dear Secretary: Secretary by day and night-time writer Stephanie (Laraine Day) takes a job with a famous writer (Kirk Douglas). They marry, but neither one really reaches their potential until she goes into print with her own voice, and he sees her as a person, and a professional.
Rich and Famous: Two life-long friends (Jacqueline Bisset and Candace Bergen) become famous writers, their writing affecting the way they live their lives, and their lives informing their writing.
Romancing the Stone and The Jewel of the Nile: Eighties adventure stories about a romance novel writer (Kathleen Turner) who begins to live a richer life when she leaves her typewriter behind. A story that is just as meaningful for those who read instead of becoming involved in the world.
Sibling Rivalry: A frustrated writer reduced to housewifery (Kirstie Alley) becomes involved in a comedic cover-up (with Bill Pullman) only to claim her true place in the world, in the end, when she writes and publishes a story.
Sleepless in Seattle: A writer uses her job as a journalist to follow-up a widower who appeared on talk-back radio.
Something's Gotta Give : After a short, traumatic love affair a famous playwright writes a play about the relationship for Broadway -- to the consternation of the other party.
Stranger Than Fiction : An author on a deadline starts hearing his life being narrated and, while being baby-sat by an assistant sent to see his work completed, he seeks help in the face of his fictionalised demise.